Dave Dawes has become the chair of RCN Council at a challenging time. Not only was his appointment made at the start of September, during the Covid-19 pandemic, it also followed the controversial suspension of the union's presidential elections.
Mr Dawes, who first served on the council 30 years ago, wants to rebuild trust in the RCN's governing body and heal divisions between members. Nursing in Practice talks to him about his credentials for doing this: his career to date, the issues he cares about and his plans. Mimi Launder spoke to him via a video call, where his optimism and energy for achieving his goals shone through.
Why did you want to become a nurse?
My first degree was in mathematics. But I did one of those career aptitude tests, which suggested nursing or social work. My mum was a nurse, so I thought, 'I'll give it a go.'
How did your career begin?
I applied very early on to the NHS general management training programme, which is a two-year programme with mentoring. It meant I was catapulted after literally one month as a staff nurse to become deputy manager of A&E, surgery, orthopaedics, outpatients, urology, ophthamology and dentist services. I was really thrown in at the deep end.
What did you enjoy about becoming a manager?
If you've been a student, and then a staff nurse, you have all these things you're frustrated with. But operational management means you're suddenly able to do something about it. I discovered I had a real flair for commissioning, partly because of my clinical experience. For example, once I was in a meeting devising the diabetes strategy for the whole country. Halfway through, I said, 'What about podiatry and ophthalmology?' They said, 'No, we're here to talk about diabetes.' So I said, 'But when people are diabetic and they don't get treated, they go blind and have a lot of foot amputations.' No one in the room knew. On a lot of NHS boards, there are only one or two people from a clinical background. We struggle to get the clinical voice heard.
Why did you move away from management?
I became an NHS chief executive when I was 31, which is a very young age. It made me take stock and go, 'What do I really want to do?' We were looking after primary and community care for about a hundred thousand patients in Manchester. I was very aware my team was doing much more interesting and exciting projects. I suddenly thought, 'I don't want to go up this chief executive route.' My career took a bit of a left turn then. I became much more about supporting nurses in different ways in their development, about innovation, creativity and that kind of thing. I started running my own social enterprises. I was the primary care lead for a big national initiative in nursing leadership.
How did you become involved in the RCN?
I got involved in the RCN almost on day one. My mum was in the RCN. I've never had this scientifically tested, but I think anecdotally, a lot of people whose mums were an RCN member join the RCN when they become a nurse. I first turned up to RCN Congress as a student nurse about three months after starting my training, and then got the bug and got involved with student activism. I have stayed active pretty much ever since and have been on council every decade since the 1990s.
What issues particularly interest you?
When I started, a lot of focus was on students and newly qualified nurses, which are getting more of my attention again. I then got interested in international work, which is something I'm still interested in. When I got involved in the primary care work, I looked at how we support primary care groups, primary care trusts, clinical commissioning groups – and how we get the nursing input into that and the clinical voice shaping leadership.
What are you focusing on as council chair?
I come at a moment where there's been, in effect, another governance scandal with the presidential elections and the extraordinary general meeting. My focus – certainly for the first few months – has been trying to get council back together as a team and looking at rebuilding trust, particularly between members and council and the executive team. In the medium term, we need to get more members engaged in shaping what the RCN does. Fewer than 1% of members are active. So, for the vast majority, the RCN isn't something they easily engage with, know how to influence, or know how to make address the issues they care about. I'm also interested in how to help front-line nurses shape the way they want things to be. If you work for a community trust, or an integrated care trust, it's often quite hard to be able to influence what the organisation does.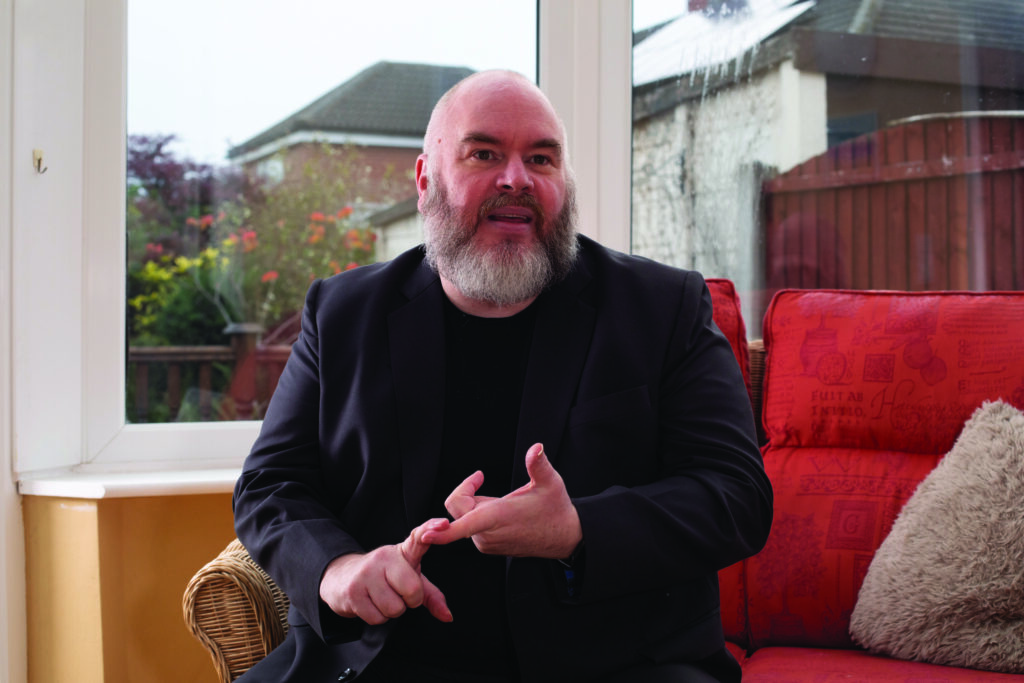 How do you increase engagement with members?
I don't think there are any easy answers. We're currently trying to do a number of things. One of them is to look at our organisational model. Traditionally, lots of trade unions focus on things like the steward role, the health and safety rep, the learning rep – the very traditional trade union roles. They work quite well in big organisations. But, for example, if you work in primary care – and there are maybe only five nurses in a practice – then it's maybe not the best model for you. We're trying to find different ways of working so that people can raise issues in a way that works for them. You also need to increase openness and transparency. Members can look at the last council meeting minutes. You can see what the debates are, and how representatives are working. I also encourage people to start building relationships with their local council member. I've not set foot inside a surgical unit for about 20 years. So, if you were a nurse passionate about issues in surgery, I need you to contact me to go, 'this is what's happening'.
Council members need to be able to talk to members, know what their issues are and what their concerns are. Personal protective equipment (PPE) is a good example. When we started to get PPE issues, a lot of people contacted council staff. The more council knows about it, the more we're able to do something.
I'm certainly very passionate about openness and transparency, and I'm trying to encourage other colleagues as well. The more accessible you are, the more people see you are genuinely trying to listen, and the more they'll engage. It's all very well to say the RCN's got more than 450,000 members, but it's the active members that really make change happen.
Are the voices of community and primary care nurses heard as much as their acute care colleagues?
I think they sometimes struggle to get their issues understood. It also depends on the background of whoever is on council. If you've got people from a strong primary care or community background, that helps.
But politics and politicians tend to be very hospital focussed. They'll often talk about the number of hospitals they're building because it's quite visible. You can go to a hospital and walk around a shiny ward. Even internationally, primary and community care is harder. If you look at healthcare in developing countries, it's always a lot easier to build a hospital than it is to create more local midwife services, for example.
How have you been engaging with members so far?
It's early days, but I'm starting to get more direct contact with members. Social media are increasingly how nurses are engaged – particularly a lot of younger and newly qualified nurses. I've been very interested in how the internet can be used as a form of political change. It enables people to engage with the union's professional side in a way that doesn't involve having to trek to a branch one evening, which doesn't work well for most people, particularly if you've got family commitments and work long shifts.
I think the RCN has generally got to get better at how it engages with social media, although we are making a lot of inroads. About six years ago, the RCN never even looked at Twitter. Now we are actively monitoring Twitter, looking at trends and responding to members.
What's your grand ambition for your council career?
If there was one thing I would want to achieve by the time I finish, it would be massively increasing the number of activists – and that can mean whatever is right for different people. If we had 10% of members active, we could achieve so many more things than we can now. I think we've got the potential to do that and maybe say, 'What does being a trade union and professional body mean in the 21st century?' Because a lot of our ways of working are 20, 30, 40 years old.
If you're a member of the RCN, try to find ways of getting engaged with what your organisation does. If you're a practice nurse and you say to your lead GP, 'We need to talk about terms and conditions,' it's important that the RCN becomes a support mechanism for you. So it gives you practical support and you can access officers and stewards. It gives you training, it gives you education, it gives you access to research.
Let us know your issues and say, 'How do we get this on the agenda?' Get involved, and if you think the RCN could do better, tell us how.
Career overview
After training as a nurse in 1990, Dave Dawes quickly rose through the NHS to become a primary care group chief executive by the age of 31. Since then, he has both founded and helped to lead social enterprises in nursing and clinical leadership. This includes a stint as managing director (from 2013-15) of Nurse First, a national leadership and innovation programme, and founding PrepOnline in 2009, a social enterprise that develops e-learning for nurses. Currently, he is commercial director at Future Care Capital, a charity dedicated to improving health and social care. Mr Dawes has long been involved with the RCN. He has been an accredited steward since 1992 and first became a member of the RCN North West Board in 2002. From 2003 to 2005, he served on the RCN Agenda Committee and is public relations officer for his local branch.
Other achievements: Possibilities director, Community Health Innovation CIC (2014-18) Board member, Social Enterprise UK (2012-19) CEO, Entreprenurses CIC (2007-10) Co-director, European Nursing Leadership Foundation (2003-07) NHS primary care lead, NHS Leadership Centre (2000-03) Chief executive, East Manchester primary care group (1998-2000)

See how our symptom tool can help you make better sense of patient presentations
Click here to search a symptom