As general practice nurses are overlooked by national plans and at the mercy of individual employers over pay, Dr Crystal Oldman warns NHS England to wake up before it's too late 
General practice nurses (GPNs) experience 'a pattern of being ignored' despite their vital contributions within the health service, according to the chief executive of the Queen's Nursing Institute (QNI).
In an exclusive interview with Nursing in Practice, Dr Crystal Oldman says GPNs must be given the recognition they deserve by NHS England. The way the work of GPNs is being 'airbrushed out of everything' is leaving a damaging and lasting impact on their morale, she warns. 
Dr Oldman believes workforce remains the biggest challenge facing primary care and community nursing. She says a lack of workplace support, being excluded from national plans and feeling undervalued by those at the top, is jeopardising the mental wellbeing of GPNs.
She stresses that NHS England must take action now to show GPNs 'how important they are' or risk losing them from the workforce. 
---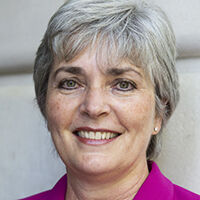 Background: Dr Crystal Oldman
The QNI is a national charity that supports nurses in community services across in England, Wales and Northern Ireland.
Dr Oldman joined in November 2012 as chief executive, having worked in the NHS for almost two decades. She also had an 18-year career in academia. 
She was awarded a CBE in the Queen's Birthday Honours List in 2017 for services to community nursing and her leadership of the QNI. 
---
Being 'ignored' damages morale
Dr Oldman is concerned that nurses working in general practice do not benefit from the same 'wellbeing infrastructure' and support offered to those working for larger organisations, such as NHS trusts. 
In 2020, the QNI launched a listening service offering emotional support to primary care and community nurses, called Talk to Us. And in a concerning revelation, Dr Oldman estimates half of the calls received by the charity come from GPNs.
According to Dr Oldman, NHS England's new Delivery plan for recovering access to primary care has worsened GPN morale, given that they have been largely 'ignored' within the blueprint.
The 46-page plan, published in May, promises to provide 'millions of patients' with quicker and easier access to NHS care through investments in better technology for GP teams and through an expanded role for community pharmacists. 
But with little mention of GPNs and the omission of nursing leaders from the plan's development, the nursing workforce and its representatives – including Dr Oldman – have not hidden their disappointment with the document.
In a sign that managers are aware of these omissions, just 24 hours after highlighting the plan's 'missed opportunity' to engage with GPNs, Dr Oldman was invited to a meeting with NHS England on the issue. 
'I think we will see quite a lot more working together with NHS England around this,' she says. Dr Oldman has since held meetings with the plan's author, national director for primary care and community services Dr Amanda Doyle. 'I'm ever hopeful that we can get the general practice nurses back on board with this.'
But the damage to morale from the recovery plan has already been felt. 'They felt ignored yet again and this is a pattern of being ignored, which I will bring up with Amanda,' says Dr Oldman. She points to other examples, such as during the Covid-19 pandemic when GPs were given 'accolades' for continuing to work and for immunisation programmes, while the efforts of GPNs in helping to keep surgeries open and rolling out the vaccine went unrecognised.
Pay frustrations 
'The way in which they are airbrushed out of everything is not helpful for their morale,' she adds. '[We] really need something that comes out of NHS England that gives an indication of how important they are.' While unsure of what this may look like, Dr Oldman suggests there are conversations to be had around funding and professional development for GPNs.
GPNs are also 'tired' and 'fed up' with a lack of recognition around their pay and terms and conditions. While the QNI is not a trade union and is not involved in pay negotiations, Dr Oldman highlights the frustration of GPNs around the way in which they are remunerated, including how this is dependent on individual employers. 'That is disappointing as well for them,' she says.
The government announced it was funding a 6% pay uplift for salaried GPs in England for 2023/24 in the summer, which should also apply to all salaried practice staff, including nurses employed by GP surgeries providing NHS services. But GPNs have been voicing concerns that the situation remains dependent on their employer's decision over whether or not to pass on the benefits of the uplift. 
While the Royal College of Nursing has been lobbying to ensure GPNs get the 6% pay rise to which they are entitled, at the time of writing, negotiations were ongoing between the British Medical Association and the government to determine the specifics of the funding, with practices being urged by the doctors' union to explain to staff that 'the money is not yet in their accounts'.
The ongoing workforce challenge
When asked about the challenges facing primary care and community nursing, Dr Oldman unsurprisingly names workforce as the 'biggest' – especially given the effects of the pandemic. 
Like many other health leaders post-pandemic, Dr Oldman is worried about the impact of extreme tiredness among the workforce as a result of Covid-19. She fears the consequences this could have for retention, retirement and working hours.
Where nurse shortages are present, patient care is rightly prioritised, she notes. 'But that means that the casualties of not having enough nurses are that education, training and development are usually the first things to go.'
The latest data from NHS Digital show a slight increase in the number of full-time-equivalent (FTE) nurses working in practices across England, but a small decline in the overall headcount – suggesting the working hours of GPNs are likely to have increased.
As of July 2023, there were 16,952 FTE nurses working across general practices in England – up by 1.6% (265) on July 2022. But the overall GPN headcount stood at 23,369 – down 0.3% (79) on the previous year.
Additional roles concerns
The NHS Digital figures also show a large increase in the number of nursing associates working in general practices – a role funded by the Additional Roles Reimbursement Scheme (ARRS), which has added to concern at the QNI. As of July 2023, there were 393 FTE nursing associates in general practices across England, a 44% year-on-year jump.
Introduced in 2019, the ARRS programme allows primary care networks (PCNs) to claim reimbursement for the salaries and some costs of hiring a number of multidisciplinary roles in practices. While nursing associate and advanced nurse practitioner (ANP) roles are included within the ARRS scheme, general practice nurse roles are not.
The QNI is set to survey GPNs to better understand the impact of ARRS and is keen to hear examples of where the scheme may be working well.
However, the institute suggests many practices are now employing large numbers of staff through ARRS and that this is having a detrimental impact on the existing GPN workforce. 
Dr Oldman says GPNs are developing training and induction programmes for ARRS staff coming in and are also being required to supervise those in post, but without recognition or benefit. 
'This is all on top of their day job,' she says. 'And there is no recognition for these core members of staff who make up the second largest [group of] clinical professionals in general practice – there is no recognition anywhere about what the impact [of ARRS] is.' 
NHS England was approached for comment.
New SPQ standards 'changing the narrative'
Among Dr Oldman's priorities and key areas of focus is the rollout of the QNI's new standards for community specialist qualification programmes to universities across the UK. In the summer, it published six field-specific standards for advanced community nursing education – including for general practice nursing, adult social care nursing, community children's nursing, community mental health nursing, district nursing and inclusion health nursing.
Three more are set to be published later this year, for health and justice nursing, community learning disability nursing, and community palliative and end-of-life care nursing. They are designed to be used by universities offering the specialist practitioner qualification (SPQ) and aim to build on the NMC's own standards, released last year.
'This can only be good for the communities served, because you have got a national agreement and a national standard to meet when you are training.'
The new QNI standards are part of a wider drive around 'changing the narrative' for community care, which can be seen as 'less important than' hospitals. 'It's not a competition,  we are serving the same community,' Dr Oldman says. 'But unfortunately, for a multitude of reasons, community has been seen as less important and that does not send a good signal to student nurses.'
It is about 'nurses setting the standard', alongside patients, and 'recognising nine fields of practice as being areas that are nurse led'.
The QNI is 'really pleased' about the way the standards have landed, according to Dr Oldman. 'It is just what universities want,' she says.