I confess that when I first worked in dermatology 30 years ago I had limited knowledge or awareness of dermatology research, but not anymore.
I have been fortunate to work with other healthcare professionals driven and motivated to address gaps in dermatology research and today it is a fundamental part of my role.
I don't plan to discuss any specific study within this blog but will focus on how we can learn from the public, carers and patients who can contribute in a number of ways, by being actively involved in research projects and in research organisations (involvement), taking part in research studies (participation) and where information and knowledge about research is provided and disseminated (engagement) (NIHR 2017).
Thirty years on I am in no doubt that there is involvement, participation and engagement in dermatology research and after recently attending the Centre of Evidence Based Dermatology patient panel event, I feel privileged to have been invited.
There are a number of words that came to mind when I reflected on the day driving home: insightful, inspirational, all-inclusive and equitable. And there was no doubt that the nursing philosophy I aspire to – 'safe secure accepted and informed' was also applicable to the day. These were my observations but what did those taking part feel? I spoke to some of the patients to get their views.
Amanda:
'Being involved in research is such an exciting opportunity for me, as someone with experience of eczema. Working with such knowledgeable people is inspirational and I always learn things about my condition.
'There is a lot to understand about research methods, of course, but that is not a big barrier to being involved because the people running trials are happy to explain. My task is to make sure the diversity of patient experience is articulated so that projects are appropriate and meaningful.
'Being at the CEBD patient day is always a joy.  Hearing what is going on in the world of dermatology research, finding out about different skin conditions and meeting up with, and learning from, those with other skin conditions who do similar things to me. A great way to share best practice.
'My hope is that, one day, patient, public and carers will be routinely involved in all dermatology research and service improvement.'
Tim:
'I have struggled with eczema for many years and joined the CEBD patient panel several years ago. Since joining I have attended almost every meeting and have been involved in several research projects with varying degrees of involvement.
'I have always felt really appreciated and it always good to know that I am helping eczema sufferers through assisting with vital research projects.
'It can be hard work, and difficult to understand at times, but I have been given assistance and training along the way, which has helped me make positive contributions to various projects.
'The projects have been varied and interesting and I am happy to help where I can. I have met some great people and learnt so much.'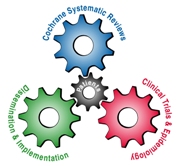 Amanda's and Tim's comments show how valuable the CEBD patient panel is and how their contribution drives the three cogs of CEBD research.
So, if you have an interest in dermatology research have a look at the links below, it's a win win situation every time for patients and carers.
Resources