Advice on handling those last-minute disclosures in your consultations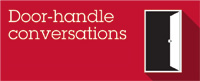 Case study
A young woman comes in for her eczema review. She seems well overall, however, before leaving she discloses that she's been hearing voices for a few weeks that tell her to self-harm.
The disclosure of possible psychotic symptomology must always be taken seriously and investigated. It will be necessary to extend the consultation to examine the situation.
First ask questions about the voices, such as if they are 'inside' or 'outside' the patient's head – this will help you determine if the voices are of a psychotic nature.
If the voices are internal, then the cause for concern may be less, as these are likely to be of a pseudo nature; possibly thoughts manifesting themselves as voices. If the voices are external, then it is necessary to further assess what the voices are saying and possibly consider referral, as recommended by NICE.1 As the voices, or auditory hallucinations, are instructing the patient to do something then it is a command hallucination.
NICE recommends that a patient should be referred for assessment without delay to a specialist mental health service or an early intervention in psychosis team as they may be at risk of developing psychosis if they are distressed, have a decline in social functioning and have:1
Transient or attenuated psychotic symptoms, or
Other experiences or behaviour suggestive of possible psychosis, or
A first-degree relative with psychosis or schizophrenia.
This also highlights the need to assess whether or not there is familial history of psychotic illness.
It will also be necessary to find out whether the patient uses alcohol or illicit substances, and if so to what extent. This may have an impact on the diagnosis, as both drugs and alcohol can be influential factors in auditory hallucinations.
With regards to the disclosure that the voices are instructing the patient to self-harm, it is imperative that they feel their disclosure is heard and validated. By offering the patient empathy around these distressing thoughts and experiences, it may be easier to engage them in seeking further support or assessment.
It is important to obtain a history of the patient's self-harm. Have they self-harmed before? If so, when was the last time? Was that in response to the voices instructing them to do so?
If there is no history of self-harm, then ask the patient if they plan to. If so, have they considered what method they will use? If they have thought about both of these, then ask them the likelihood of them self-harming. Do they feel at risk? If they do this should indicate a conversation with a senior member of staff – either your lead nurse or a GP – or mental health services.
When a reasonably robust history has been obtained, you must decide on what the correct pathway is. If the concern about risk is unmanageable, considering both the command hallucinations and self-harm, then a referral to secondary services, primarily a community mental health team, must be made.
If the risk appears to be low, such as no past history of self-harm, low distress, social support, then the situation may be contained by the patient being signposted to local and national services, such as Mind, and then returning to see the practice nurse a week or so later for a review.
Fiona Brand is a psychiatric liaison nurse with Oxford Health NHS Foundation Trust
References:
1 NICE. CG178: Psychosis and schizophrenia in adults – prevention and management. London;NICE:2004