The high prevalence of overweight and obesity is a major public health issue, and is associated with a higher risk of type 2 diabetes, cardiovascular disease and some types of cancer.1 The impact of obesity has been heightened in the recent Covid-19 pandemic with emerging evidence that people living with excess weight are at increased risk of serious illness or death.2
Having a healthy body weight is important in both children and adults.1 Research suggests that eating patterns and preferences for healthy foods are established early on in life, so it's crucial that we encourage children to eat well at the very earliest stage.3 But what is the current advice on infant feeding?
In 2018 Feeding in the First Year of Life, was published by the Scientific Advisory Committee for Nutrition (SACN), the committee of independent experts who advise the UK Government on nutrition issues.4 This was the first comprehensive review in the UK on this topic in more than 20 years.
What is the SACN infant feeding guidance?
Breastfeeding
In recognition of the strength of evidence for the benefits of breastfeeding for both mother and baby, the recommendation to breastfeed exclusively for around the first six months, and to continue breastfeeding for at least the first year of life once solid foods have been introduced, was reiterated. Furthermore, the report highlighted the rapid decline in numbers of women breastfeeding over the first few weeks of an infant's life, and stressed the continued need to support women and help increase rates in breastfeeding.
When breastfeeding is not possible or not chosen, infant formula based on either cows' or goats' milk, or soya-based formula if medically advised, are the only suitable alternative options. From six to 12 months breastmilk, formula or water should be the only drinks offered, and cows' milk should not be given as a main drink until 12 months of age. This is because cows' milk consumption in infancy is associated with lower iron status as a result of gastrointestinal blood loss and because the iron content and bioavailability of cows' milk is low.
Complementary feeding (weaning)
Further to the SACN report the recommendation that solid foods should not be introduced before around six months of age remains. In addition, SACN reemphasised recommendations around:
not adding sugars and salt to complementary foods;
giving daily vitamin D supplementation (containing 8.5 to 10 micrograms (µg) of vitamin D)*;
the importance of a diverse, complementary diet;
the importance of including iron-containing foods (see the table below for examples of good sources of iron in red);
the introduction of foods in an age appropriate form, at a time and in a manner to suit both the family and individual child.4
* Formula-fed babies should not be given a vitamin D supplement until they're having less than 500ml (about a pint) of infant formula a day, as infant formula is fortified with vitamin D.
New Directions
Allergenic foods
The report confirmed that allergenic foods such as peanuts, nuts & seeds (ground), and hen's eggs can be introduced from 6 months of age and need not be differentiated from other solid foods. However, SACN stressed that if such foods are deliberately excluded beyond six to 12 months of age, or if initial exposure is not continued as part of an infant's usual diet, risk of allergy to these foods can increase [a]. Guidelines advise that allergenic foods are introduced one at a time in small amounts so any reactions can be noted.
[a] Families of infants with a history of early-onset eczema or suspected food allergy may wish to seek medical advice before introducing these foods.
Vegetables first, frequently and in variety
The report noted that a number of trials suggest that in comparison with bitter tasting vegetables, fruit and sweeter vegetables are better accepted. This finding has been incorporated in some advice e.g. Start4life, which points to ensuring bitter vegetables are introduced early in the complementary feeding process.5 Furthermore, evidence indicates that repeated exposure to new foods enhances their acceptance, and that offering a variety of foods may help to increase acceptance of new flavours.
Responsive feeding
The report drew attention to the importance of the 'how' rather than just the 'what'. For example, studies have reported beneficial effects of responsive feeding (i.e. carers responsiveness to infant appetite cues) on the quality of the infant diet in the context of obesity prevention. Although some limited evidence was reported for benefits for baby led weaning (BLW) in terms of, for example, earlier self-feeding, there was no reported effect on excess weight. There is currently insufficient evidence to make recommendations on BLW, and both this and spoon-feeding (puréed or mashed foods) are appropriate choices. However, it's important to introduce different textures to improve skills like chewing.
Putting the advice into practice
From around six months appropriate first foods for infants include vegetables and fruit, starchy foods, protein foods and dairy products given in small amounts, in an appropriate form.5 When the infant is ready, a wider range and combination of foods, with different tastes and textures can be gradually introduced.5 This is to make sure they get the energy and nutrients needed, and to help familiarise them with foods that are part of a healthy, balanced diet.5
By the age of 12 months they should be eating three meals a day, in addition to some healthy snacks (for more information on complementary feeding see Key Resources). Examples of foods from the different food groups are in the table below: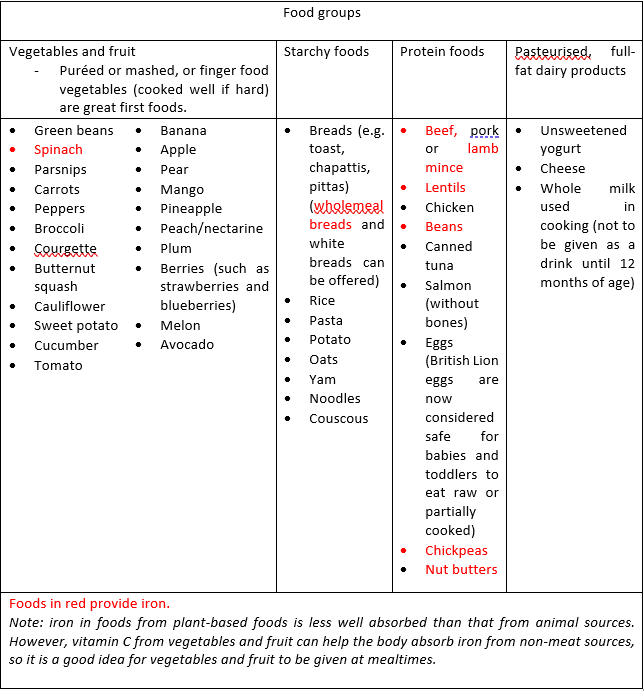 How can healthcare professionals support parents and carers?
As healthcare professionals we need to be able to give evidence-based guidance on infant feeding in an accessible and sensitive way. We need to understand that there are many factors that influence parents/carers choices in how they feed their infant including cultural differences or financial insecurity. Every parent/carer wants the best for their child so it's important to respect their choices and offer support, in order to help children get the best possible start in life.
Key resources
British Dietetic Association (BDA). Complementary feeding (weaning)
British Nutrition Foundation (BNF). Introducing solid foods to your baby
NHS. Your baby's first solid foods
References
Department of Health and Social Care. Tackling obesity: government strategy. https://www.gov.uk/government/publications/tackling-obesity-government-strategy
Department of Health and Social Care. New obesity strategy unveiled as country urged to lose weight to beat coronavirus (COVID-19) and protect the NHS https://www.gov.uk/government/news/new-obesity-strategy-unveiled-as-country-urged-to-lose-weight-to-beat-coronavirus-covid-19-and-protect-the-nhs
Birch L, Savage JS, Ventura A. Influences on the Development of Children's Eating Behaviours: From Infancy to Adolescence. Can J Diet Pract Res. 2007; 68(1):s1-s56.
Science Advisory Committee for Nutrition (SACN). Feeding in the First Year of Life https://www.gov.uk/government/publications/feeding-in-the-first-year-of-life-sacn-report
Public Health England (PHE). Start4life https://campaignresources.phe.gov.uk/resources/campaigns/2-start4life/Weaning
---