Geraldine Walters outlines how the NMC is laying the groundwork for the future of midwifery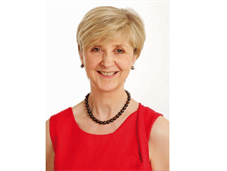 All the midwives on the NMC's register have shown professionalism and dedication during the past 18 months. They have had a crucial impact in maintaining the quality and safety of maternity care delivered to women and their babies in unprecedented circumstances and, in many instances, adapted their ways of working to ensure they could continue to provide this support and care.
Student midwives have also made an invaluable contribution, at the same time as coping with uncertainty and disruption to education and training. I know many midwifery students are inspired by the midwives they work alongside. If that's you, particular recognition is due.
As a result of midwives' experience and skill, most maternity services in the UK achieve excellent outcomes and deliver a positive experience for women, their families and babies, and have continued to do so despite the heat of the pandemic.
But we also know some services were experiencing challenges before the pandemic hit, and continue to do so.
The importance of leadership
Too often, tragic outcomes related to childbirth are a result of broader problems in maternity services. A great maternity service is delivered when the whole of the multidisciplinary team works well together, within an organisation that supports them. Issues such as poor leadership and culture, a lack of continuing professional development or underlying failures to recognise and escalate concerns across the wider MDT cannot be fixed by midwives on their own.
Looking to the future
The NMC's new future midwife standards play a part in making maternity services stronger, helping to provide consistently excellent care in a changing world. They're designed to equip the midwives of the future with the knowledge, skills and behaviours required to meet the needs of women, make complex autonomous decisions in the face of challenging and uncertain situations, and be proactive and collaborative team members and leaders.
But this doesn't just apply to midwives of the future.
As part of revalidation, all qualified midwives need to reflect on the new future midwife standards and think about how they apply to their own specific area of practice, in order to help keep skills and knowledge up to date. Properly funded CPD and access to training is important if midwives are to revalidate successfully, and to ensure familiarity with the new standards so they can effectively supervise and assess new midwifery students.
Once students qualify, structured preceptorship – like the model the NMC has outlined in its principles of preceptorship – can help them to manage the tricky transition from student to fully qualified professional, and lay the foundation for a successful career. High-quality preceptorship can also help midwives feel confident and valued.
Promoting safety and a learning culture
Maternity care is complex and carries risks. Midwives themselves are often best placed to recognise things that might create risk or cause harm.
Services are stronger where professionals feel able to speak up, admit mistakes and learn from them. At the NMC, we have the regulatory power to remove midwives from the register if there is evidence of seriously unsafe practice, but we would rather use our powers to encourage learning and improvement, so care becomes better for everyone. We want to focus on understanding what has happened when something goes wrong, rather than assigning blame.
We believe the best way to support this is to give midwives the chance to address concerns, encouraging them to be honest, to speak up and to reflect in order to build a culture of openness.
These responsibilities are embedded in the future midwife standards and the NMC's Code. They encourage professionals to take responsibility and speak up if they see something they feel isn't right – no matter where they practice or what their level of seniority.
If you are interested, read our guidance on raising concerns, or watch our animation about speaking up.
Speaking up takes courage and professionalism – and it can save lives.
Working together to be better
It will take all of us – regulators, employers and professionals – to join forces to deliver sustainable improvements in maternity services.
At the NMC, we will continue to play our part and provide the structures and processes to make midwifery care better for everyone. It is time to do more than just speak about making the necessary improvements. No one person or organisation can fix those issues, but the NMC will do all we can to make improvements happen for midwives, and for women and families.