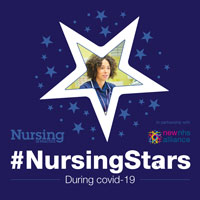 Way back in 2016, when I was the chair of New NHS Alliance, one Friday night I sent an idea in a tweet to my colleague and friend Louise Brady. That led to the campaign Ninja Nurses that has today become: #NursingStars. 
We invited patients, colleagues and nurses themselves who work in primary care, to tell us, via Twitter, why general practice nurses were 'hidden warriors' or 'ninjas'. Twitter went crazy that weekend, with nurses talking about the need to raise their profile. Nurses, patients and colleagues across the four nations of the UK posted pictures and shared the hashtag #GPNNinja. 
We organised what is called a 'thunderclap' where everyone released the same message at the same moment, using Twitter and Facebook, to call for recognition and development of the GPN workforce. We chose a Sunday morning; apparently a good time to catch chatty nurses. That message reached three quarters of a million people. 
Our campaign reached the ears of the Australian Practice Nurse Association (APNA) who invited me to do a color:windowtext;text-decoration:none;text-underline:none">keynote address at their annual conference in Melbourne on the theme of GPNs being 'the heart of primary care'. It turned out that GPNs in Australia likewise shared our desire to make 'hidden warriors' visible. 
And when I came back, Nursing in Practice adopted and amplified our Friday night campaign. 
Now the campaign is re-born with the more culturally–appropriate name 'Nursing Stars'. We are celebrating not just GPNs, but all primary and community nurses and the work they are doing during the Covid-19 pandemic. As a former GPN and director of primary care I remain a staunch supporter. I am totally over-awed by the sheer grit, determination, and flexibility of my fellow nurses. 
As the pandemic eases, we move from response to recovery. And again, primary and community nurses will be central to addressing the backlog of screening, health promotion and long-term conditions management. Yet employers and commissioners alike continue to show significant variability in their desire to offer appropriate terms and conditions of employment or to understand, and commission, the essential work that school nurses, district nurses and health visitors (to name a few) do.
My message to readers is not only to articulate the quality of what you do as clearly as you can, but to quantify the economic and social benefit of your work.
GPNs have the advantage of being able to link their achievement of quality and outcomes framework targets and various other item of service payments directly to practice income. For community nurses it can be more tricky and for you I recommend a simple tool called the Unit Cost Database (click here for a link to information from Greater Manchester on calculating cost benefit analysis). So, for example, if your service prevents emergency admissions or out–patient appointments or enables a reduction in hospital bed days, you can easily find the cost of say an A&E attendance or bed day and calculate how much you save the system. If you change a drug or a dressing and wounds heal more quickly, or if you change suppliers and get a better deal, tell everyone, not just people in your team. 
What we do also creates social and economic benefit. I remember a continence nurse saying how she helped someone continue to run their small business by enabling them to become continent again. And as for the emotional wellbeing that creates? Loads. Another was giving intravenous therapy in the community, meaning that her patients didn't have to take time off work to go to a (more expensive) hospital. Money talks – and we need to get smarter at using it as a lever. 
Lastly, consider who we are targeting with this campaign. Certainly, we can target each other – heaven knows we need to feel good about ourselves right now. Each of us will know who we want to influence: our employer, our commissioner or maybe student nurses – to encourage them to choose primary and community nursing as a career.  
But it is important for the wider community to also know about the important work we do. Don't take the foot off the pedal now. Time to show the country that we are essential both now and in the future. 
We are all nursing stars – never forget it.