Practice nurses are being encouraged to raise parental awareness of bronchiolitis this winter by the More Than a Cold campaign to prevent infant hospitalistion.
An estimated one in three babies in the UK will develop bronchiolitis in the first year of their life. Bronchiolitis is the most common cause of hospitalisation during infancy in the UK, with 30,000 children across Britain requiring a hospital admission for respiratory syncytial virus (RSV), which causes bronchiolitis, every year.
The campaign has released a leaflet, which GPNs can give to parents and carers, explaining the condition. While it is impossible to completely prevent it, advising parents of good hygiene such as hand washing, covering a child's nose and mouth when they cough or sneeze and using disposable tissues, may help prevent the virus being passed on.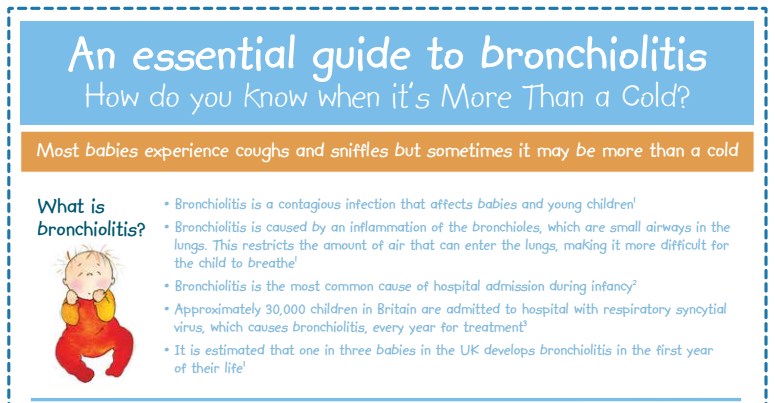 To download the leaflet click here
Paediatric specialist for the More Than a Cold campaign, Dr Su Laurent, said: 'This season, we have already seen a high number of cases of bronchiolitis, so it is important that parents and caregivers are extra vigilant.
'Many of the early symptoms of bronchiolitis are similar to those of a common cold, such as a blocked or runny nose, a cough and a slightly high temperature.  Symptoms will usually worsen over the course of a few days and include a rasping and persistent dry cough, noisy breathing (wheeze) and brief pauses in breathing. Other symptoms include little ones feeding less, having fewer wet nappies, vomiting after feeding and being irritable or floppy. It usually affects babies under the age of one.
'When a child is unwell, it's understandable that parents will be worried. Although symptoms can be distressing to witness, they are usually mild and bronchiolitis can generally be managed at home. It is important to remember that bronchiolitis is caused by a viral infection so in the majority of cases antibiotics are not needed. 
'Children with a more severe case of bronchiolitis may find themselves struggling to breathe, with a breathing rate of 50-60 breaths per minute and may have a high temperature of 38°C or above.
'While it's unusual for these children to need hospital treatment, so far this year we have already seen large numbers of babies with bronchiolitis, many of whom have required admission to hospital.'