Dementia is now the most common couse of death in England, overtaking heart disease, according to new data released by Public Health England (PHE).
PHE published the 'landmark' Health Profile for England last week, which showed that between 2001 and 2015, death rates from heart disease and stroke has halved for both males and females. Over the same time period deaths from dementia and Alzheimer's have increased by 60% in males and 50% in females.
'This partly reflects the fact that the population is ageing and that two-thirds of deaths now occur among those aged 75 and over, but also an increased awareness of dementia,' the report states.
According to the most recent data (see table, below), heart disease is the most common cause of death for males, above dementia and Alzheimer's. For females, dementia and Alzheimer's was the most common cause of death, followed by heart disease. However, for both males and females over 80, dementia and Alzheimer's is the leading cause of death.
Cancers accounted for 30% of deaths in males and 24.8% of deaths in females. When considered separately, four of the 10 leading causes of death in males and females were cancers. For both sexes, lung cancer, colorectal cancer, and leukaemia and lymphomas were among the top 10 leading causes of death. Prostate cancer was also in the top causes of death for males, as was breast cancer for females.
Using the Global Burden of Disease (GBD) model, the report identified the behavioural, metabolic and environmental risk factors contributing to deaths in each age group and also by each cause. It was found that the behavioural risk factors contributing to the highest proportion of deaths in 2013 were poor diet and smoking.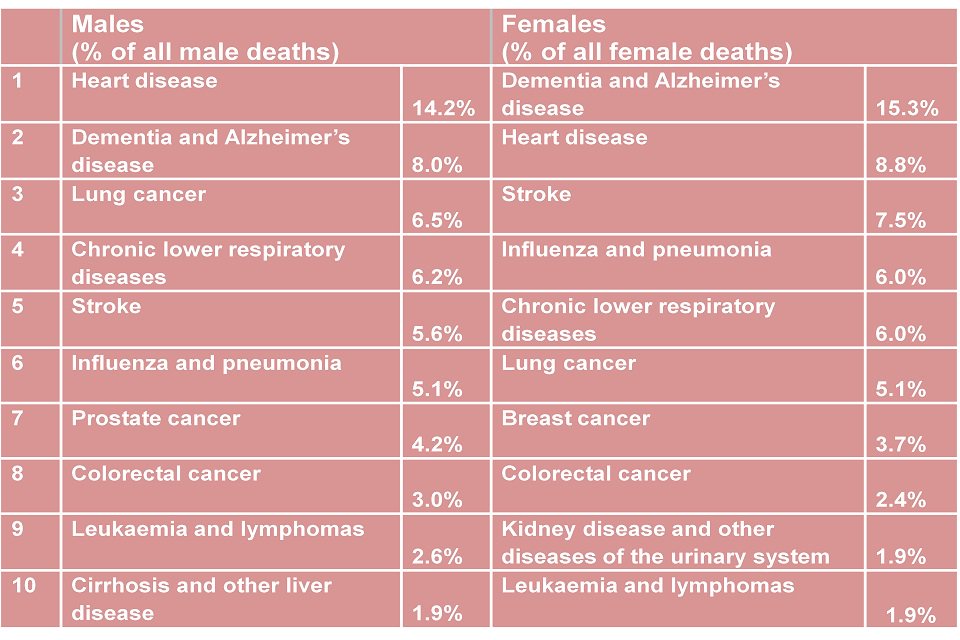 Source: Public Health England