A practice nurse from County Durham has won the 2018 Practice Nurse of the Year award at the General Practice Awards.
Helen Crowther, nurse manager at the Weardale Practice, was awarded the title at awards ceremony in London due to her work improving cervical screening rates at her practice.
She managed to increase the average number of monthly samples from 17 to 45, and the overall practice rate to over 90%, after overhauling the screening system.
She introduced a third reminder letter sent out on pink paper, and started to offer a flexible screening service, including late night appointments and home visits.
Ms Crowther – who is also one of the first practice nurses to be appointed by Macmillan – was congratulated by NHS England's primary care nursing lead Karen Storey.
.very well deserved your dedication to your community is admirable – congratulations and enjoy the award #GPN10PP @sahaggerty @sheinazs @6CsLive @WeGPNs @TheQNI @C_Carmichael83 @Gpnsnn @RCNGPNForum

— ✨Karen Storey RN QN MSc (@kstorey63) November 30, 2018
The awards ceremony also saw Carole Knight, a community nurse at Hughenden Valley Surgery, High Wycombe, pick up the Community Nurse of the Year award.
Working as a nurse in the vulnerable adults living independently advanced nursing team, Ms Knight improved the care of more than 400 of the community's most vulnerable patients. For each patient, she saved an average of 10 GP consultations, three GP home visits, and just under one hospital admission each year. It means her surgery is now the lowest user of emergency and out of hours services within their CCG.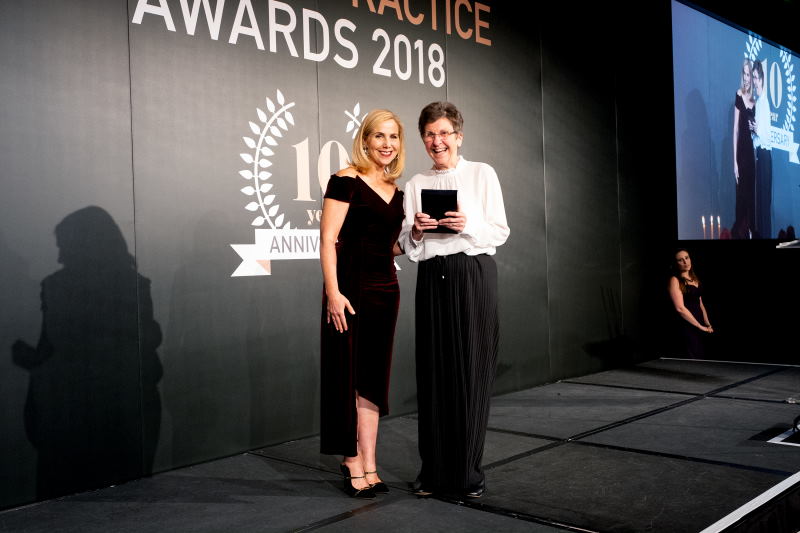 Carole Knight receiving her Community Nurse of the Year award, alongside awards host, comedian Sally Phillips
The awards celebrated the best of primary care, with awards handed out to GPs, pharmacists and healthcare teams.