'It is idyllic, but it can be challenging,' said Catherine Shaw, speaking to Nursing in Practice about her team of advanced nurse practitioners (ANPs) and paramedics, who bring care to isolated communities in Scotland where the nearest doctor might be two hours away.
Ms Shaw is the lead advanced practitioner for the Rural Support Team (RST) covering a population of just over 80,000 in the north and west Highlands that stretches from the Isle of Skye and the Ardnamurchan peninsula to the country's northernmost tip, John O'Groats. In Ms Shaw's words, it is 'the most beautiful place' she has ever lived.
But with this wild beauty comes isolation, and recruiting highly qualified nurses and paramedics – who must be educated to an advanced MSc level – to work in such a remote part of the world is far from easy. When Ms Shaw was hired as the team's first lead in 2017, there were just four RST members. 'There were issues with recruitment and retention,' she recounted. 'In the Highlands, it's always difficult. I think the fact that the team had no leader before I came contributed to the difficulty.'
Even if someone is interested in the role, there must also be appropriate housing, schools for their children, and work for their partners. To help, Ms Shaw and her team collaborated with the research department at the Centre for Health Science in Inverness – which, in an attempt to tackle the issue, has run projects on recruitment and retention in other rural areas – as well as the community and the local council. They developed a brochure and filmed the ANPs working to 'communicate what the role is really like', she said. 'We went from having three applicants for a job to 12.'
There's strength in numbers
The team has since grown to 21, including 17 ANPs, and is looking to expand even further. One recruit moved to the Highlands from Spain and another from Germany, though 'most people that we've taken on are from the west coast of Scotland or the Highlands. But everyone, wherever they are from, is equally invested. They want to build their future here.'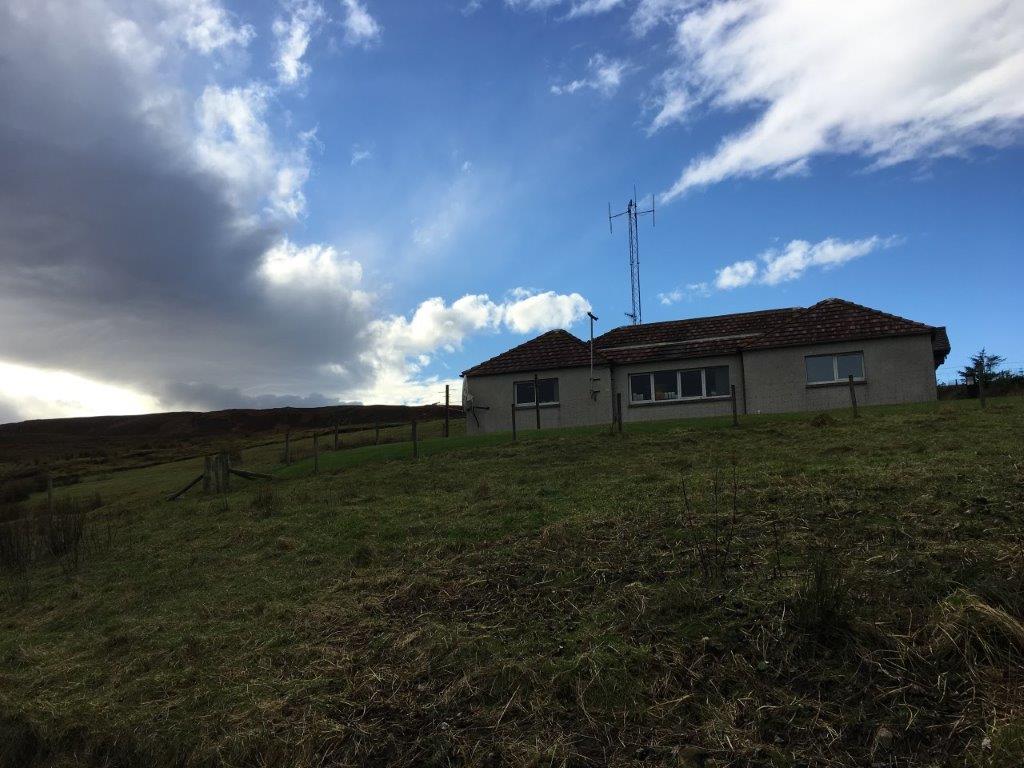 Picture: Armadale, one of the more remote GP practices.
Care settings vary – from GP practices and patient homes to enhanced community hospitals and urgent care centres –  and staff backgrounds are just as diverse. While many have experience as practice or community nurses, others have previously held posts in secondary care. But all of them have worked 'amazingly hard' – from learning on the job to studying at Master's level. 'I feel incredibly proud of what they have achieved,' said Ms Shaw.
Above all, 'you need to be resilient' to work on the team, she stressed. As ANPs make decisions on their own, 'they need to be courageous but also sensible. It's a phenomenally difficult, responsible role to fill. ANPs might think, "I do that already", but until you do it in a very remote, rural situation, where getting support could take hours, I don't think it hits home just how much responsibility you have.'
That is why avoiding risk is the team's mantra. 'I really push that during training,' added Ms Shaw, on the need for team members to know their limits. 'We only expect you to work to the level of your knowledge, and once you reach that, pass it on to somebody with more knowledge.'
'Whatever the weather, whatever the time'
Care provided by the RST can be scheduled or unscheduled, during the working day or in the dead of night. For example, on the Ardnamurchan peninsula, an unspoiled 50-square-mile area of striking scenery that can only be accessed by a single-track road, the team is the out-of-hours healthcare provider. 'After six o'clock at night and all weekend, they cover the whole peninsula,' explained Ms Shaw. 'Whatever the weather, whatever the time.' Meanwhile, they must hop on a lifeboat to access Raasay and other islands.
If the weather's good, the long drives required as part of the job can be 'stunning', said Ms Shaw. 'But if it snows and it's icy and it's three o'clock in the morning, it can add an hour or more to your journey.' Summer can be equally tricky, with tourists flocking to the Highlands. 'Nurses can't have a green light on their vehicles,' Ms Shaw explained, which is problematic when ANPs are stuck in traffic and are only able to flash their car lights. 'Tourists think the nurses are trying to bully their way through, when actually they're trying to say, "let me through, I'm going to see somebody who is really sick".'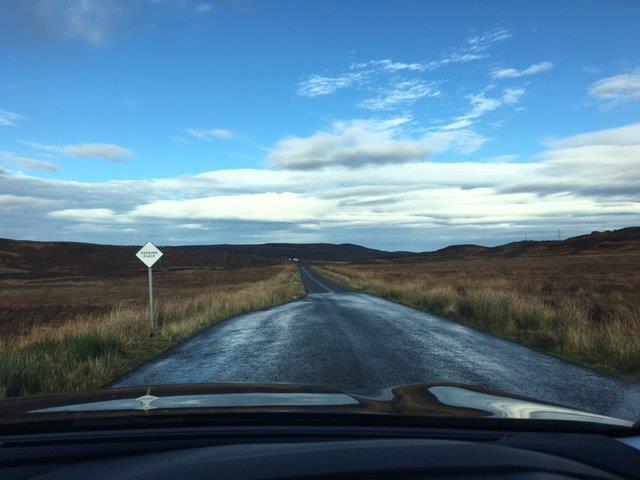 Picture: The flow country – a wild expanse of peatland and wetland – is one of the areas the team has to drive through.
Ms Shaw remembered how one nurse was left 'devastated' after hitting a deer that ran onto the road on a 'pitch black' Christmas night: 'When she got out of the car, she hadn't killed it. It was injured. So, on Christmas evening, she sat on the side of the road, in the snow, holding the deer while it died.' Ms Shaw, who used to work as a matron on an acute ward in the Midlands, went on to marvel: 'On the back of that, I contacted the police to find out what to do in that situation. I never thought I would have to find out what happens if one of your nurses hits a deer on the way home.'
On more serious road incidents, Ms Shaw said: 'Some tourists were coming from a single-track road over a humpback bridge onto the road my team member was on, which was two lanes, and they completely forgot which lane they should be in and hit him head-on as he came round a bend. Luckily nobody was massively hurt.'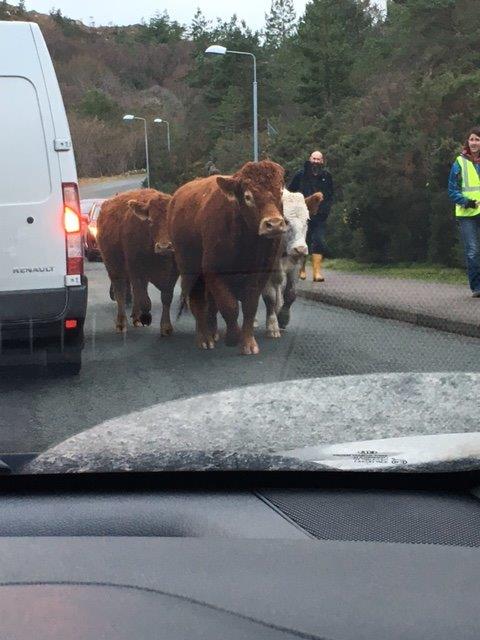 Picture: Local traffic.
Whether it is patchy phone reception or unpredictable weather, the team regularly encounters the unexpected, and there is no such thing as a typical day. Janice Stephenson, an ANP on the team with experience in midwifery and nursing, told Nursing in Practice that hurdles can include the accuracy of the sat-nav, accessing courses, study days usually situated far away in bigger towns, and even 'maintaining confidentiality' in small communities, where 'everyone knows, or thinks they know, everyone else's business'.
On the more demanding aspects of the role, she continued: 'You are often isolated as the sole clinician when working and can deal with anything from a simple viral rash or cut finger to a peri-arrest or arrest, sepsis or a very sick child, which can be extremely challenging or stressful. If a situation arises, you must deal with it as there is nobody else. The nearest doctor may be two hours away and the Scottish Ambulance Service may be over 30 minutes away, if available.'
But Ms Stephenson can't see herself doing anything else, she said. 'The rewards are priceless. You are kept on your toes, never knowing what will come through the door, or what you will be called to next. You are always learning something new every day; there's no chance of stagnating, or of things becoming routine… You are working on the same level of expertise as a mid-grade doctor, but with the added benefit of a nursing approach, I feel I am able to offer a more holistic care package.'
Part of the community
The RST 'massively takes stress off the ambulance service', said Ms Shaw. 'Some of those little communities are hours away from the nearest hospital. With the introduction of the ANPs, we're now more about keeping people at home, if we can,' she explained. 'It may be that previously they would have been taken to hospital, which could be three or four hours away. And, of course, the ambulance isn't going to take them home, so they've then got to work out the return journey.'
Shona Macpherson, an ANP who works with the rural support team on Skye, told Nursing in Practice that the team provides a 'vital service' to these isolated communities, especially in the context of recruitment and retention problems up and down the country: 'You know many people in the community you cover, and it is good to be able to follow patients up, to be someone people know and relate to. A local service means a lot to remote and rural areas. It means people will stay in the area, that it won't get depopulated, which has unfortunately been a problem in the past.'
Taking pride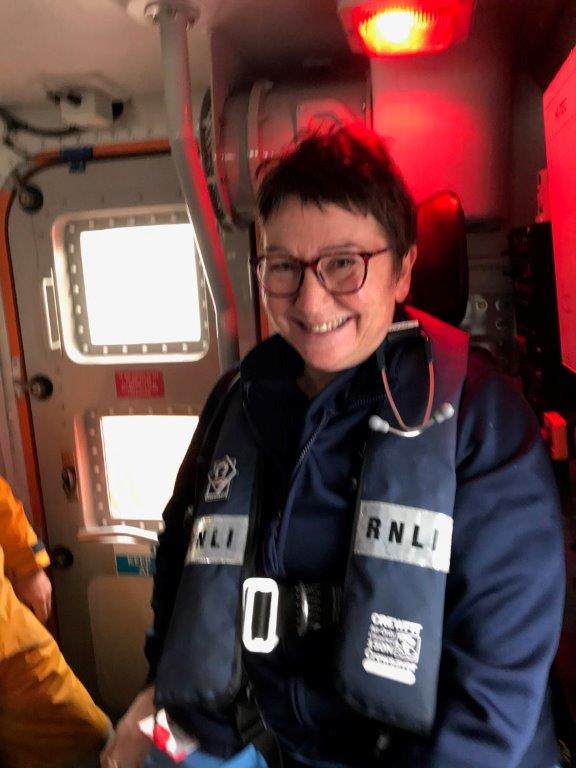 Picture: Visiting islands in a lifeboat.
Not all communities were on board with the idea – at least at first. 'A lot of people think they're just losing a doctor, and that an ANP is a cheaper [option],' said Ms Shaw. 'But once they get to see how an ANP works, and what they can do, and how they can support their community, they go from, "I'm not sure how this is going to benefit us", to "I'm not sure how we're going to cope if we don't have them". For example, one of our nurses was stopped by a member of a small, isolated community and told: "I just wanted you to know how much we appreciate you."'
'ANPs are the full package,' she stressed. 'Nurses are known for the time they give to people, the empathy, the handholding – all the things that nurses have historically done. And we still do, but we also bring that additional knowledge with us.' Ms Macpherson agreed, adding that her role 'is not for the faint-hearted and carries a great weight of responsibility', but that she is 'delighted to be a part of a unique and growing team'.