The number of patients being readmitted to hospital in an emergency with potentially preventable conditions such as pneumonia has increased by over 40% in the last seven years, new analysis has shown.
The findings from QualityWatch, a research programme from the Nuffield Trust and the Health Foundation, looked at hospital data detailing patient diagnoses and the reasons behind emergency hospital readmissions between 2010 and 2017.
The researchers found a 19% rise in patients being readmitted to hospital in an emergency within 30 days of discharge between 2010/11 and 2016/17. Within this, the analysts identified a 41% rise in emergency readmissions for conditions classified as 'potentially preventable'.
However, they acknowledged that the increases may be partly down to changes in how conditions are coded in hospitals, as well as a rapidly growing older population.
The 'potentially preventable' readmissions included patients with pneumonia, pressure sores and venous thromboembolism (VTE) and were conditions that the patients were not diagnosed with when they were first admitted to hospital.
The analysis aims to highlight, among other things, where improved quality of care in the community might have prevented readmission, the Nuffield Trust said.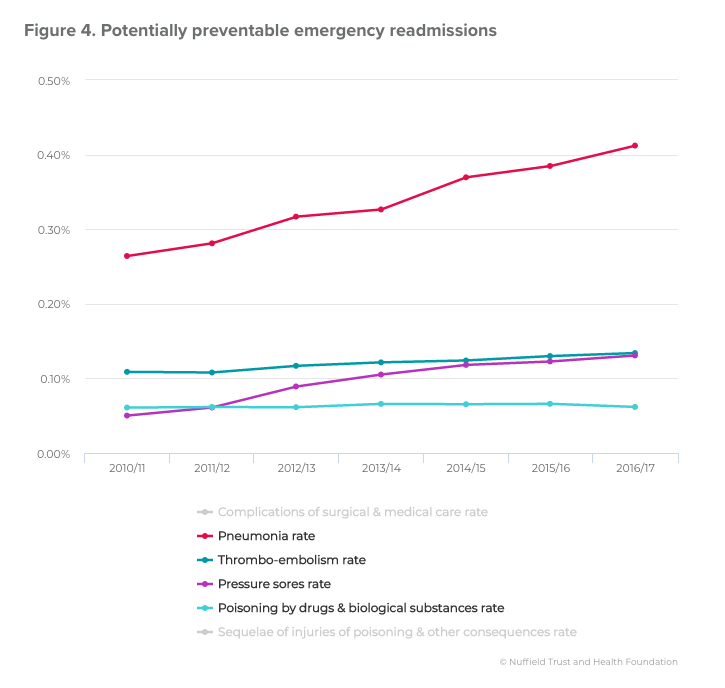 According to the researchers, these findings should raise questions about the quality of care that older people are receiving from community and social care services – as well as how and when they are discharged from hospital.
Potentially preventable emergency readmissions to hospital grew from 130,760 to 184,763 – an increase of 41.3% – between 2010/11 and 2016/17. This means that the proportion of patient hospital stays that were followed by these types of readmission grew from 0.8% to 1.1%.
| Condition | 2010/11 readmissions | 2016/17 readmissions | Percentage Increase |
| --- | --- | --- | --- |
| Pneumonia | 41,003 | 70,731 | 72.5% |
| Pressure sores | 7,787 | 22,448 | 188.3% |
| Venous thromboembolism | 16,890 | 23,006 | 36.2% |
The increases in both pneumonia and pressure sore readmissions were greater than the overall increases in cases in those conditions respectively.
While the findings may point towards changes in coding practices of conditions in hospital, as well as a rapidly growing frailer and older population, the findings show there is a good opportunity for local health providers and policy makers to target their quality improvement efforts, the Nuffield Trust said.
Research analyst at the Nuffield Trust Jessica Morris, who led the research, said: 'Emergency readmissions to hospital, for conditions that were not diagnosed during their first visit, are potentially a warning sign that a patient's quality of care may have been compromised.'
Ms Morris added: 'The findings provide local health providers with a good opportunity to sit up and focus their attention and quality improvement initiatives on the three conditions where we've seen the most significant rise in readmissions.'