Written complaints about primary care have risen since last year but just under 4% of them were about practice nurses, new figures published by NHS Digital show.
The NHS in England reported receiving 208,626 written complaints during 2017/18 – a 0.1% increase on the previous year.
This equates to one written complaint per 265 people or 572 complaints per day.
Around half of these complaints were not upheld (50.4%), whilst 36.4% were fully upheld and the remainder partially upheld.
The report, Data on Written Complaints in the NHS, 2017-18, found that in primary care reported complaints have risen by 4.5% since the previous year, whereas in secondary care they have fallen by 3.3%.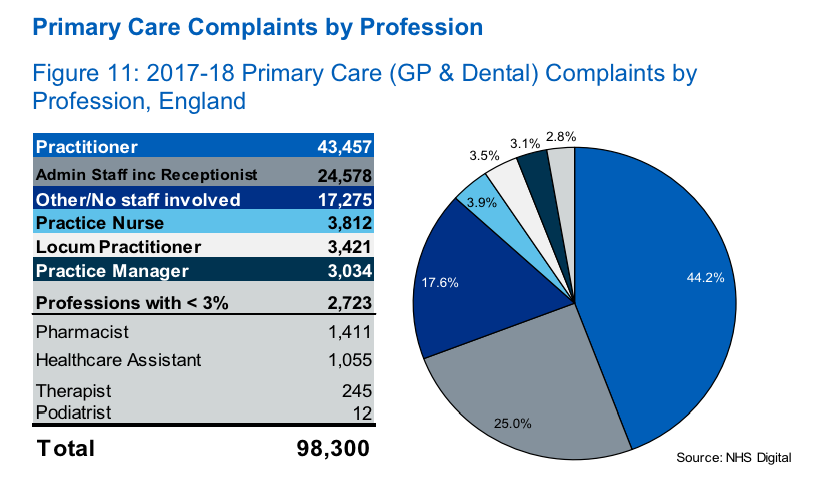 The total number of complaints about primary care, including dental practices, increased from 90,579 in 2016/17 to 94,637 in 2017/18.
Following trends from the previous year, practitioners (GPs and dentists) accounted for the highest percentage of written complaints in primary care at 44.2% (43,457), followed by 'admin staff, including receptionists' at 25% (24,578). Practice nurses accounted for just 3.9% – down from 4% in 2016/17.
The majority of complaints in general practice related to communications (15.6%), followed by clinical treatment (13.3%) and then staff attitude/behaviour/values (11.7%).
Within community care:
• Midwifery was the profession with the highest percentage increase in written complaints rising by 11% from 3,411 in 2016/17 to 3,785 in 2017/18.
• Health visitors had the highest percentage decrease, dropping by 13.3% from 452 in 2016/17 to 392 in 2017/18.
Parliamentary and health service ombudsman Robert Behrens said: 'NHS staff are working under immense pressure. It is a credit to them that the data does not show a significant increase in complaints overall.
'The NHS complaints process is an essential channel to improving public services and we encourage people to speak up when things go wrong.
'We owe it to the NHS's dedicated and skilled workforce to talk about mistakes in an open and transparent way enabling organisations to learn from them, make improvements and ensure they are not repeated.'