Practice nurses working in London will come under two new frameworks for career development and preceptorship this year, as part of an initiative to increase nurse numbers in the capital.
The digital career framework – a free online tool that practice nurses can use to reflect on their practice, receive and review feedback from their peers and patients, and discuss their development with their chosen facilitator – was launched on 17 January after being piloted in 14 organisations across London.
It was developed by the CapitalNurse programme, an initiative in London established in July 2015 by the London chief nurse and the Health Education England (HEE) regional director, designed to ensure 'efficient and effective recruitment, retention and career development'. 
The nine career development domains
Clinical practice
Communication
Teamwork
Leadership
Professionalism and integrity
Research and evidence
Safety and quality
Facilitation of learning
Development of self and others
The framework is based on nine areas of development, which were created to align with the Nursing and Midwifery Council's requirements for revalidation.
The website is useable for all nurses at all career stages from registration to advanced practice, and indicates which areas are necessary to develop depending on the nurse's professional goals.
'It's all about developing confidence, because with confidence comes competence,' said Jane Fish, project manager for the retention workstream at CapitalNurse.
'It's really tough out there so it's important to feel valued.
'Some of our bigger trusts have more to invest so I think this will almost benefit the smaller organisations more because it's been developed for them and it's free,' Ms Fish added.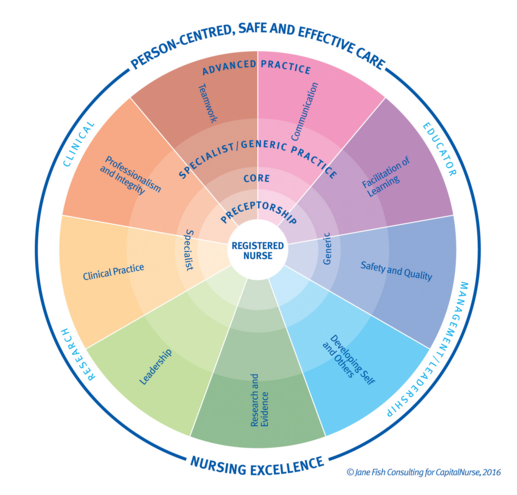 The second initiative, the preceptorship framework, will support newly registered nurses in London as they transition from students to practitioners.
The preceptorship framework aims to increase retention rates for newly qualified nurses by supporting them to feel valued, as well as minimising 'transition shock'.
The preceptorship framework, which is available online, is a guide for preceptors on how to provide support to new nurses during the first six months to two years of their practice. It includes a charter as well as optional meeting templates.
CapitalNurse will also provide one-day training on the programme, as well as a resource hub.
'This will be a key part of the delivery of the 10-point plan in London,' said Louise Morton, the dean of nursing education for HEE.
The framework should provide a 'sense of loyalty, belonging and value,' according to Ms Morton.
The guide was assessed by nurse forums, attended by about 150 delegates including practice nurses, prior to the launch.
An assessment questionnaire was also sent to all organisations in London in September 2017 to ascertain what they already had in place. The response was 'very favourable' towards the new framework, Ms Morton said.
Although none of the organisations were as yet using a framework that included all the aspects of CapitalNurse programme, many were already closely aligned to the guidelines.
'What we're finding is that where a lot of organisations already have preceptorship in place, they're tweaking it so that it will comply with the framework,' said Desiree Cox, preceptorship project manager for CapitalNurse.
'And those that didn't have now got something to work towards implementing, so that by the next intake, which is around September time, hopefully the majority will have something up and running.'
During the summer, CapitalNurse will survey London organisations again to measure compliance with the preceptorship framework, and licensing may be made available for organisations who follow the framework.
The framework, which was based on the Department of Health's preceptorship guidelines from 2010, aligns with the current appraisal system within GP practices and trusts.
Protected time for preceptorship activities 'is one of the thorny issues,' Ms Morton said. 'We included in the plan that it should be considered but did not specify an amount of time.'
The charter of responsibilities for both preceptor and preceptee sets out the following recommended time requirements:
The preceptee and the preceptor should work alongside each other at least four working days in the first month.
Regular formal meetings during the preceptorship period.
Half-day initial training workshop for preceptors using classroom and digital learning.
This involves a number of activities including completing induction and other required training, attending regular meetings with their preceptor, actively seeking feedback, escalating concerns, reflecting on their professional practice and taking ownership of their own development. Learning can be achieved in a variety of ways including observation, workplace learning, e-learning, experiential learning, reflection and working with others.
Some practice nurses have noted that there may be challenges in getting the GP providers to 'buy into the programme', but urged that the result would be higher retention of new nurses.
'Typically community Trusts have gone through a lot of change and preceptorship is one of the things that has fallen by the way and has become a bit ad hoc and hit and miss,' Ms Cox told Nursing in Practice.
'What we are aiming for is a harmonised approach to preceptorship across London and across all areas of practice,' Ms Morton said. 'We are making sure that there is a really strong offer of preceptorship, using the framework, in primary care and that message in itself is saying that primary care is a place to be as a new registrant.'
'When we asked for case studies, we did get some from acute Trusts, but we've had quite a few from primary care, very keen to promote preceptorship,' said Ms Cox. 'For me that shows that they value preceptorship and that it's making a difference.
Talking to Nursing in Practice, a newly qualified nurse and a trainee practice nurse in south east London said the programme is 'vital for newly qualified nurses to provide solid foundations and key support for future practice.'
'Since launching it we have had interest from other areas like Greater Manchester and Hampshire and the Isle of Wight so we have been invited to go down and talk to them about it,' Ms Cox said.
'CapitalNurse is a London programme and there are elements of it that you might share and learn from elsewhere. It's not a "lift and shift" but you might look at the preceptorship programme and say we can take nine tenths of the tenants out of that and apply them locally,' Ms Morton added.
Later this year the NMC is expected to launch a new guidance on pre-registration nurse training and the supervision of students in practice.
The preceptorship framework 'will evolve to incorporate those changes and acknowledge the needs of a new registrant in 2020,' according to CapitalNurse.