The public is being encouraged to speak out about the impact of around 40,000 nursing vacancies in England as part of an advertising campaign launched today (17 September) by the Royal College of Nursing (RCN).
The campaign, launched on the first World Patient Safety Day, is asking people to tell the Government to introduce legislation in England that ensures accountability for safe nurse staffing at all levels of health and care services.
It doubled down on calls for a statutory body to have responsibility for future nurse workforce planning – as no body has this function at present – and an investment of at least £1 billion in nurse higher education.
In a poll conducted by the RCN in the build-up to the campaign, seven in 10 (71%) people in the UK said there are not enough nurses in the NHS to provide safe care to patients.
However, 67% of respondents in England incorrectly believe the Government has a legal responsibility to ensure there are sufficient nursing staff.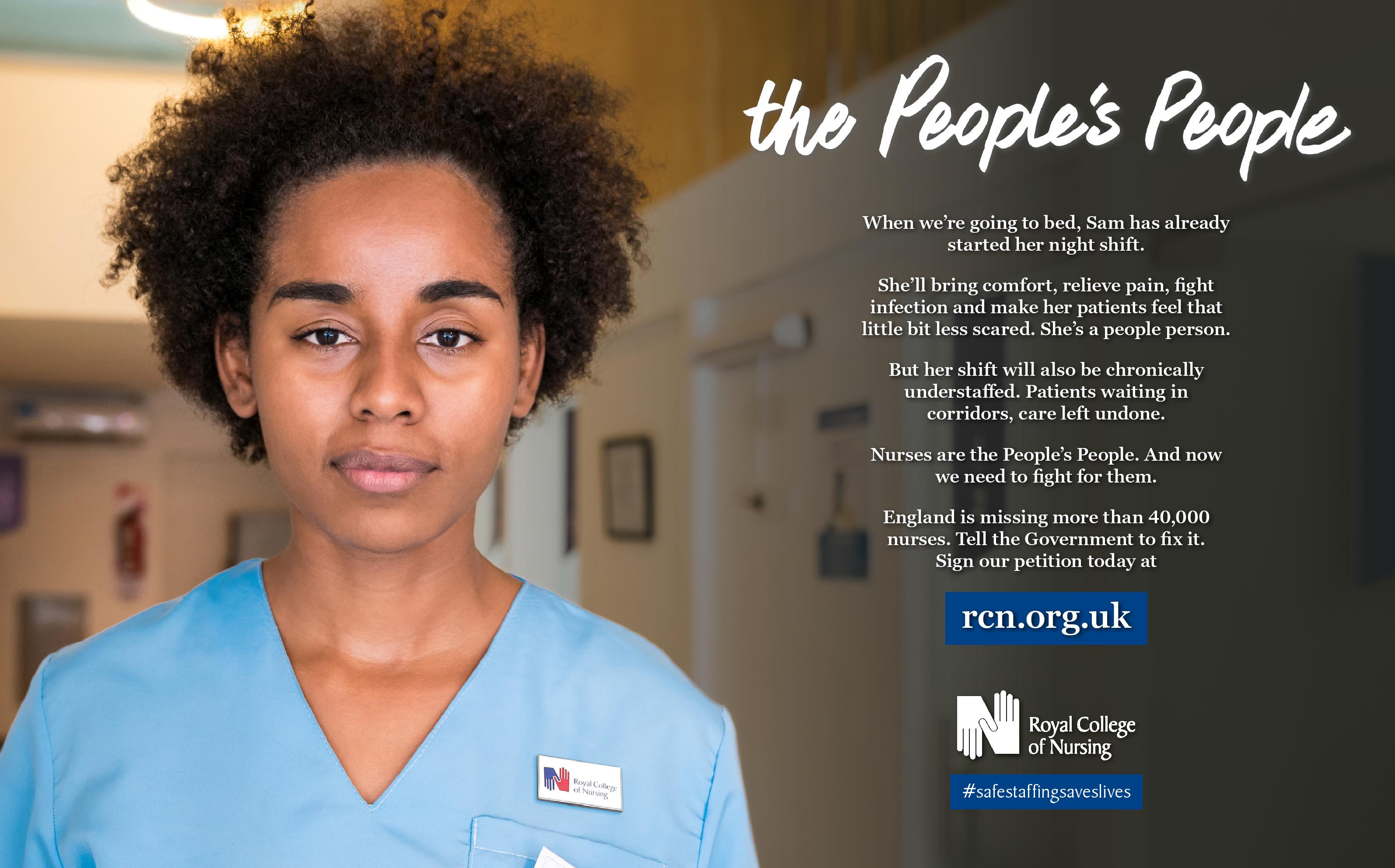 Picture: The advertisements encourage the public to sign the RCN petition urging the Government to introduce safe staffing legislation in England.
Earlier this year, nurses and support workers in Scotland secured new legislation on safe staffing levels after a nurse staffing law was introduced in Wales in 2016.
Nurse numbers in acute trusts across England increased after the 2013 Francis Report on failings of care at Stafford Hospital concluded the significant shortage of nurse at the hospital was the main factor responsible.
But new analysis by the RCN shows that the extra 9,894 nurses recruited to NHS hospitals since 2013/14 is dwarfed by the additional 1,557 074 admissions over the same period. For every extra nurse recruited by acute trusts since 2013/14, there were 157 extra admissions to hospital.
Concerns stretch beyond acute care with the Department of Health and Social care saying it was looking at changes around incentives to address shortages in community and mental health nursing in July.
RCN chief executive and general secretary Dame Donna Kinnair said the RCN is issuing a 'stark warning that patient safety is being endangered by nursing shortages'.
She continued: 'We're calling on the public in England to fight for nurses and sign our petition calling on the Westminster Government to invest in the future workforce and make clear who is accountable in law for safe patient care.
'Our polling shows almost two-thirds of people already fear there aren't enough nurses to provide safe care – and they want recruiting more nurses to be the top priority for any extra funding for the NHS in England.'