Up to 100,000 RCN members have today walked out in a second day of strike action across England, Northern Ireland and Wales, in a dispute over pay and amid concerns over patient safety.
The RCN has warned the UK Government that if it fails to respond within 48 hours' of today's strike ending, it will announce further dates for January 2023.
RCN chief executive Pat Cullen said: 'The Prime Minister should ask himself what is motivating nursing staff to stand outside their hospitals for a second day so close to Christmas. They are prepared to sacrifice a day's pay to have their concerns heard. Their determination stems as much from worries over patient safety and the future of the NHS than personal hardship…
'Let's get this wrapped up by Christmas. I will negotiate with him at any point to stop nursing staff and patients going into the new year facing such uncertainty.
'But if this government isn't prepared to do the right thing, we'll have no choice but to continue in January and that will be deeply regrettable.'
Today is the last strike date announced so far by the RCN, but it has warned of more dates in January if the UK Government refuses to negotiate pay.
1:00pm
An even bigger crowd has now gathered outside the doors of the hospital as the weather gets a little warmer in the afternoon.
The crowd at Great Ormond Street Hospital is only growing as more nurses join their colleagues in support of the #NursesStrike pic.twitter.com/aauuAVAosU

— Nursing in Practice (@NurseinPractice) December 20, 2022
11.30am
Nikki Low (pictured), a cardiac pediatric nurse, is choosing to strike after 13 years as a nurse because she has seen too many colleagues quit due to poor conditions and low pay.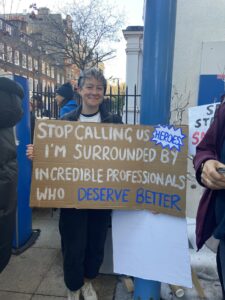 'For me, the saddest thing is watching brilliant young professionals walking away from the profession,' she says. 'They are overworked and exhausted so they are looking for other work.
'It's heard breaking; that's why I'm here. We're seeing less people go into nursing and more people leave.'
Nurses say low staffing levels are negatively impacting the hospital.
Isabella Frances, a retrieval nurse, says: 'Even before Covid, we were seeing fewer people going into nursing. People just can't afford to work as a student nurse.
'I think that Covid was the catalyst for this [strike] movement, but the shortages existed before Covid. Even during the pandemic we were not able to do our jobs properly due to staff shortages, I would say that people died because of this.'
11am
As more nurses join their colleagues on the picket lines, general ward sister Vicky Gately tells Nursing in Practice that nurses 'can't carry on this way.'
'On one hand, it was an easy decision to strike because I have seen what is happening day to day in the hospital, but I used to be anti-strike,' says Ms Gately. 'Look at me now, I'm out here leading the picket line; what does that tell you about the state of nursing?'
For Ms Gately, and many others nurses walking out across the country today, the key issue is safe staffing. Ms Gately tells Nursing in Practice that many shifts in the hospital were understaffed with a some shifts only having half the number of nurses needed.
'If we don't have enough nurses on the floor, patient care is being compromised. The public know we're doing this for them and that we will always advocate for them.'
Public support for the strike outside Great Ormond Street hospital today is as clear as it ever has been. Young patients wave to the nurses as they come and go and non-nursing members of the community are stood in the picket lines along side hospital staff.
Ms Gately even says that on the last strike when temperatures dropped to -5 degrees, parents from the hospital brought out hot-water bottles for the nurses stood outside.
10.30am
A critical care nurse tells Nursing in Practice says it feels more 'unsafe' to work on the ward as a nurse, compared to when she started nearly 20 years ago.
Sarah Carter, critical nurse specialist at Great Ormond Street, says she's striking to see safer staffing levels on the wards.#NursesStrike #RCNStrike pic.twitter.com/Pg0asYMpPF

— Nursing in Practice (@NurseinPractice) December 20, 2022
10am
We arrive at Great Ormond Street Hospital for Children, with sprits high among those striking and supports alike.
Spirits remain high for the nurses out on strike this morning outside Great Ormond Street!#NursesStrike pic.twitter.com/ss2BRRBmvQ

— Nursing in Practice (@NurseinPractice) December 20, 2022
Former Labour leader Jeremy Corbyn has made an appearance to show support, alongside plenty of encouragement from the public, with people honking and shouting from cars, and tables loaded with donations of coffee and cakes.
On the picket line at Great Ormond Street Hospital for Children for the RCN #NursesStrike this morning, with Jeremy Corbyn making an appearance to show support pic.twitter.com/wAvxpNecSA

— Nursing in Practice (@NurseinPractice) December 20, 2022