A further day of strike action is planned for 20 December.
4pm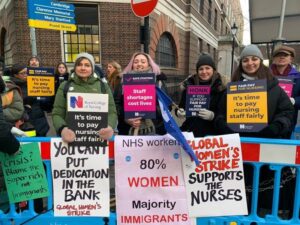 Journalist Maddy Sherratt, who is covering the strikes for Nursing in Practice, is now at Imperial College Healthcare Trust.
A communications officer at the RCN says it started off at about 80 to 100 people this morning at Imperial, but numbers have died down as temperatures dropped.
Many nurses tell us that they have considered leaving the profession because of the pressures of understaffing and rising demand.
An ICU nurse on the picket line says: 'It's about the patients. Since Covid, we're so burnt-out… The conditions are definitely not great. We're all burnt-out, we're exhausted, but we're coming to work every day and doing the best we can. But we can't do this any longer… The Government needs to open their eyes… The NHS will collapse if they don't open their eyes.'
They say they are working extra hours to make up for the cost-of-living crisis and to pay rent.
Another nurse says: 'Patients are suffering because of understaffing. You feel like a failure because you don't feel you can feel what you want to do… And you start thinking of an exit plan.'
2.30pm
The NHS Pay Review Body body – which makes recommendations to the Government on Agenda for Change pay – should not change its pay recommendation, even though the situation has 'moved on' since it made its decision earlier this year, the former chair of the review body has said.
Jerry Cope told BBC News: 'I think the problem with the current situation is…that it took the decision last year based on evidence that it received probably around February time, and the world has moved on a little bit since then.'
But he added: 'Well, I don't think it can change because that's actually dangerous for trade unions and for government, if review bodies recommendations are routinely revisited.
'But I think what government could do, and what trade unions could accept if everyone's looking for a reasonable way out, is for the Govnerment to say to the review body, 'let's do your next report very quickly, as quickly as you possibly can, and in doing that report take account of any new evidence you might have recieved after you made your recommendations next year'. So a sort of inherent catch-up if you like.'
2pm
Nurses at The Royal Marsden explain to us why they are striking – and why they think a pay rise is important to boosting the NHS workforce.
Nurses Lizzy and Lucy, who work at The Royal Marsden, are asked by @maddysherratt how the atmosphere has been on the picket line – but the honking and cheering rather speaks for themselves… 👏 pic.twitter.com/8rrHJKYzlY

— Nursing in Practice (@NurseinPractice) December 15, 2022
Outside The Royal Marsden, Katie (far left) tells @maddysherratt that she wouldn't encourage her children to join nursing: 'Nursing today is not the nursing I got into 12 years ago,' she explains. pic.twitter.com/k1svHp6GFE

— Nursing in Practice (@NurseinPractice) December 15, 2022
1pm
A second Tory MP has called for the Government to increase its pay offer to nurses in England.
According to The Guardian, he said: 'Suppressing pay well below the rate of inflation will encourage more NHS staff to do less contracted hours and either work as expensive agency or locum staff or to leave the NHS to work elsewhere – perhaps for private healthcare providers, both of which cost the NHS money.'
The comments come after Jake Berry, a former Conservative party chairman, said the government should 'improve its offer'.
12pm
Journalist Maddy Sherratt, who is covering the strikes for Nursing in Practice, is now at Royal Marsden NHS Foundation Trust. Nurses tell us that the pay increase is vital because nursing work is more complex than ever, but that nurses are burning out.
Many say that they thought that the clapping for the NHS during the Covid-19 pandemic would act as a turning point in support for nursing, but that the opposite has in fact happened: they are having to work harder than ever.
Incredible scenes of public support for our #NHSWorkersNeedAPayrise #NursesStrike @NurseinPractice @theRCN pic.twitter.com/8odenxsKsL

— Maddy Sherratt (@maddysherratt) December 15, 2022
11am
"..the NHS is underfunded and under-resourced, our nurses are flat, burnt out and tired…
All we're asking for is a decent pay-rise and making sure that we're working in conditions where we can do what we want to do" #NursesStrike @theRCN @NurseinPractice pic.twitter.com/bIvU25wbkw

— Maddy Sherratt (@maddysherratt) December 15, 2022
10.30am
Paul and Sabine, who work in London, tell Nursing in Practice that they decided to strike after working in tough conditions during the Covid-19 pandemic, and are now concerned for patient safety as burnt-out nurses leave the profession because they have not received a decent pay rise.
'For me, as a nurse, it's not something we take lightly in terms of wanting to strike. It's not what we want to do,' says Paul. 'It's not just for money, it's for patient safety, it's for patient relative safety, it's to ensure they have a good experience when they come to us. The nurses that I work with are tired, they're exhausted. They're working in very challenging conditions.'
For example, Paul says one of his nursing colleagues left the profession to train as a barista for better pay, while other nurses have approached him for financial support.
Sabine adds: 'We can't equate it just by striking for pay, it's the staff to patient ratio which has changed dramatically over the last few years… It has come to a point that is critical.'
9am
Journalist Maddy Sherratt, who is at the strikes for Nursing in Practice, arrives at Guy's and St Thomas' NHS Foundation Trust in London. It is a bitterly cold day, she says, but strikers are in high spirits, and the public has been supportive, beeping their cars in encouragement.
RCN general secretary Pat Cullen had been at Guy's earlier that morning, as part of her planned route across England and Wales.
Lots of support from members of the public – bringing essential supplies pic.twitter.com/uCtwzBRXqw

— Maddy Sherratt (@maddysherratt) December 15, 2022