Thousands marched on Downing Street at a rally on 3 February to call on the Government to increase funding for the NHS, during which the Royal College of Nursing (RCN) president Cecilia Amin pressed for the NHS to stop paying nurses 'peanuts'.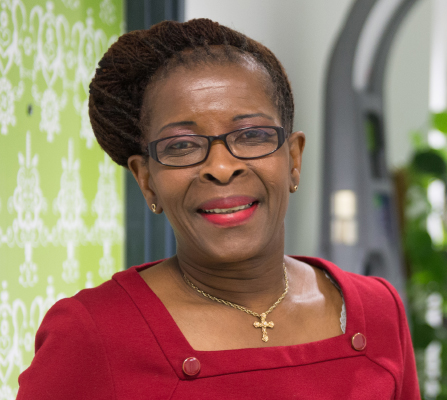 Cecilia Amin (Picture credit: RCN)
Addressing the crowds, Ms Amin said in her speech that change for the NHS 'means valuing the nurses and paying them proper – not peanuts!'
The RCN supported its members to attend as part of its Close the Gap campaign, which demands an above-inflation pay increase for NHS nursing staff.
Ms Amin told the demonstrators: 'Economic pressures make going to work harder and harder and it's getting worse. I have never in my 40 years in the NHS seen anything like this. Experienced nurses are leaving the profession – the NHS is losing knowledge and skills built over many years. Newly qualified nurses are not getting the support they need. We need to stop this from happening. We need to stop the NHS from bleeding to death!
'Many of our colleagues are experiencing burnout. It should not be like this. It cannot continue. We must be heard. Currently there are 40,000 nurse vacancies in England alone. Can you imagine the effect this is having on delivering care? It's not surprising that nursing staff and other staff are burnt-out. Urgent action is needed and it is needed now!
'This means a proper approach to workforce planning. It means ensuring that the NHS has the right number of nurses with the right skills to deliver effective care. It means encouraging more people to join the nursing profession and showcasing what a rewarding career it is. It means valuing the nurses and paying them proper – not peanuts! It means no more sticking-plaster solutions or kneejerk reactions to economic funding. Fund it now!
'2018 is an important year for us. We are fighting for the NHS. We will fight for nursing. We will be paid properly. One law for the NHS – one law for nursing. Scrap the cap – close the gap!'
Other speakers on the day included David Bailey, an A&E nurse from Oxford who is campaigning for the NHS despite being diagnosed with terminal cancer.
Mr Bailey told the protest: 'We have to learn from the direct action taken by the nurses in 1988 against the Thatcher government. They went on strike and we ended up with a 22% pay rise and Agenda for Change.'
I feel really excited about the #NHS demo on Saturday!
I have been asked to speak at the start&am looking forward to giving it some serious welly for nurses!!! We have lots to be proud of. #NursesRoar #TeamRCN

— Danielle #NHSLove (@daniellejade198) February 2, 2018
Ready to march for #OurNHS #SaveOurNHS pic.twitter.com/OiR6F6Gb20

— Laura Wilson (@nursing_Laura) February 3, 2018
Pouring rain couldn't dampen the spirits of RCN members as they pounded the streets of London. Hear from them: https://t.co/wCmVZhLdAo #closethegap pic.twitter.com/gWwBEJxYn1

— The RCN (@theRCN) February 5, 2018
Brilliant day – 60k in London and 50 towns+ round England AND N of Ireland & Wales came out to agree we need change of Govt to #FundOurNHS #SaveOurNHS @keepnhspublic @pplsassembly @JonAshworth pic.twitter.com/ZozRcejPoC

— TonyOSullivan (@DrTonyOSullivan) February 3, 2018
Picture credit: Gareth Harmer & RCN