Elia Monteiro explains why she feels compassionate care has taken a new meaningful form during the national lockdown and the Covid-19 pandemic.
As a trainee advanced nurse practitioner, I was eager to start undertaking physical examinations of patients under the supervision of a doctor in the GP where I work. I had chosen to postpone the start of my Advanced Clinical Practice course for six months as I completed my MSc in Primary Care last year. The 2020 Year of the Nurse and Midwife started superbly as my MSc dissertation got accepted for publication and I had the opportunity of continuously develop my knowledge and skills in a programme of study that enable me to practice at an advanced level.
However, an unprecedented healthcare crisis soon unfolded, which would impact the whole world in unimaginable ways that nobody could have predicted or prepared for in advance. Healthcare as we knew it – regardless of field of specialty, area of practice, geographical location or population demographics – has been impacted. This has resulted in rapid changes in the delivery of services, at a pace of transformation that would have taken years of careful planning and strategic risk assessment for implementation. Key workers comprising the doctors, nurses and anyone involved in any form of care in any setting, have been confronted with the real prospect of risking their own lives and the lives of their families to help save people's lives and keep people well.
As a practice nurse, my work routine changed drastically when general practices reformed delivery of healthcare services overnight to operate a total triage system and closed its doors to prevent exposure of vulnerable patients and propagation of covid-19 infection. The nature of the nursing profession means that we need to see patients within two-metre distance, such as to provide wound care or administer vaccines or injections.
However, we now telephone our patients to triage onset of viral symptoms that could point to Covid-19 within the household, and to set up an appointment for urgent care and essential healthcare services that are continuing during the pandemic such as childhood immunisations. My nursing telephone reviews enable me to provide continuous monitoring and give advice over the telephone, I maintain regular contact with more vulnerable patients to ensure they are well supported or to check whether they need a referral for help with daily living activities like shopping or collecting medication from the pharmacy. I make recommendations about lifestyle changes to patients with chronic conditions and advise about how to adapt the care plan in self-isolation and lockdown restrictions.
Hot hubs
Just as I adapted to my new routine of work, I was redeployed to work at the hot clinic as I had previously volunteered for emerging services to manage Covid-19 patients. The community hot hubs are set up to assess suspected and confirmed cases of Covid-19. In these settings, the patients reporting symptoms such as a fever or new onset of cough on the telephone triage consultation are referred by their GP for a same-day face-to-face consultation at a local hot hub.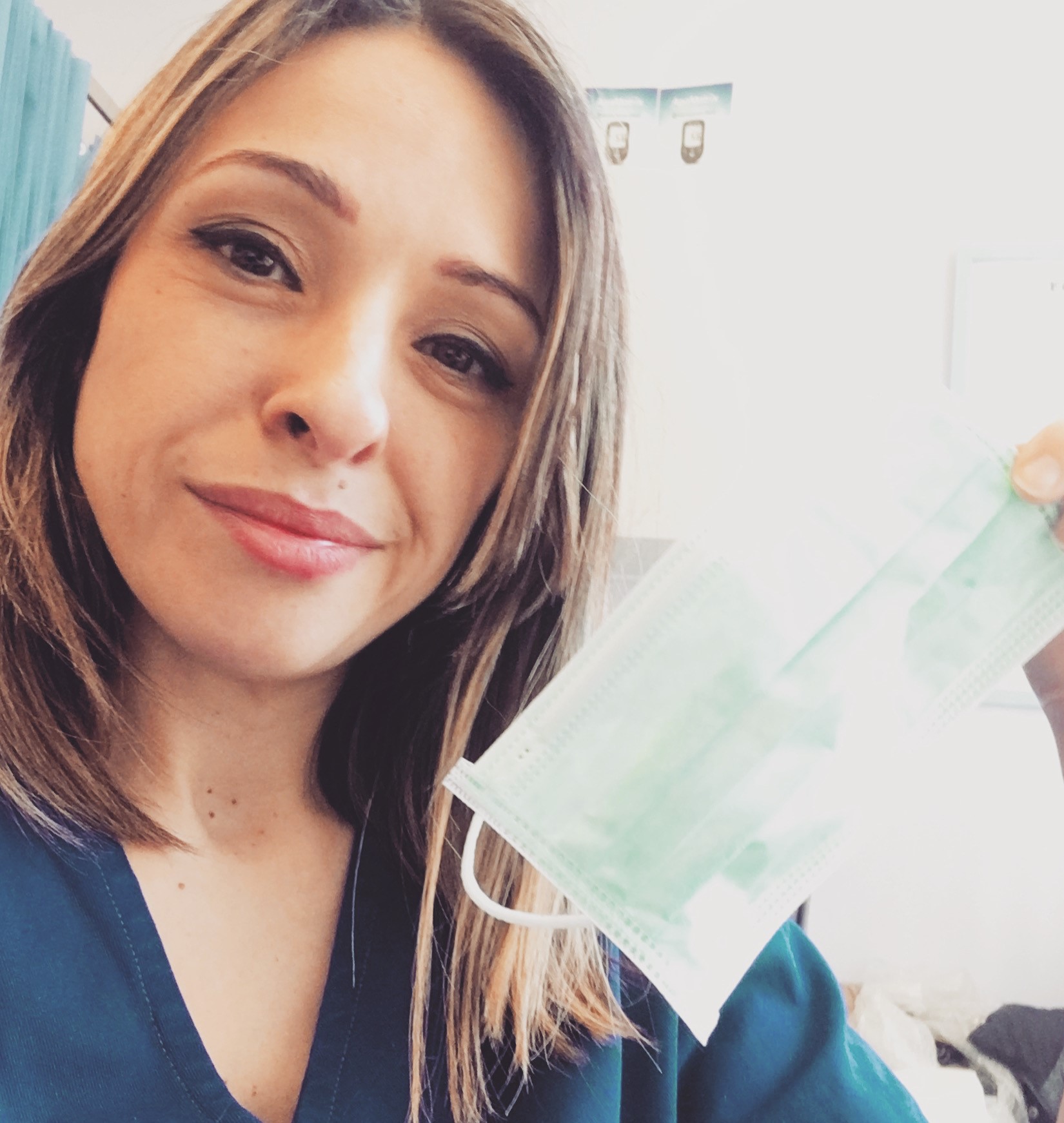 In the hot hub, the clinical room has been stripped of all non-essential clinical equipment and all stationery and clinical folders or health leaflets and posters have been removed. In compliance with infection control measures, we have only what is strictly necessary at hand, which comprises of the necessary clinical equipment for physical assessment, minimal furnishings and a computer. When a patient arrives at the hot hub, I introduce myself while providing them with a mask and gloves and accompany them to the room. Only the patient is allowed inside unless it is a child who will be seen with one accompanying adult. I then take a brief clinical history and their observations.
After the clinical evaluation by the doctor, some patients are reassured about their current condition and may be stable enough to remain at home with some medical advice about signs and symptoms of deterioration and a recommendation about seeking urgent medical help. Other patients need a prescription for medication, which is set up electronically. In some cases, they need to go to A&E and we call an ambulance to transport them to the hospital. After each patient, I disinfect all surfaces that have been touched by the patient or ourselves with alcohol-based products; this includes the room furnishings, door handles, the computer keyboard and all equipment used. It is a very meticulous and methodical process carried out thoroughly for infection control purposes and everyone's safety.
There are several positive aspects of my experience working in a hot hub as a practice nurse. While practicing under supervision and shadowing a senior clinician, I have gained first-hand experience of clinical history taking and physical assessment in acute cases that present in primary care. I have gained invaluable insight into clinical presentations of symptomatic patients that are unwell, the importance of a patient's medical history and the relevance of physical examination in adding insightful information to the clinical prognosis. I have also experienced escalation of a patient that needs urgent care by continuous monitoring for potential signs of deterioration until the ambulance arrives, communication with the patient about the medical findings in relation to their current condition and the need for continuity of care provision in the hospital setting, as well as handover of care for the patient to the paramedics.
Compassionate care during Covid-19
It is a privilege from both a personal and professional perspective to be in a position as a nurse to help people at a time of need, to provide compassionate care for people during the Covid-19 crisis, which may be impacting on their physical and mental health too. As a practice nurse, it is rewarding to care for people in the local community, to care for members of a family across all age ranges, from cradle to grave. It is dear to me to recollect one of the patients with Covid-19 in the hot clinic that was grateful to see a practice nurse familiar to her and expressed appreciation once more for the immunisations I administered her child the previous year following recovery from a cancer diagnosis.
In addition to the profound changes in the way we deliver services in primary care, several guidelines about clinical practice have been published during the pandemic. Arguably, one that has made the headlines repeatedly and raised countless debates has been the availability and adequate provision of PPE. It may be the first time for some clinicians in general practice to hear about donning and doffing personal protective equipment and following a protocol relevant to a specific healthcare setting. In the hot hub I manage the provision of PPE available for the clinical session, this involves ensuring that we have the adequate quantity of PPE to run the clinic, carrying out an inventory of the PPE in stock and ordering more when necessary. I also check the hub emergency drugs and equipment regularly.
The hot hubs are providing an essential service in a health emergency crisis as they offer an additional layer of management of patients in the community that are unwell but can be managed at home and patients that are becoming acutely unwell and may need hospital admission. The hot clinics also enable medical examination of patients with symptoms of infection that are suspected Covid-19 but may have non-specific malaise such as pneumonia or otitis, which will invariably present with fever. I have also observed the assessment of a suspicious breast lump on a symptomatic patient who has had contact with a Covid-19 confirmed case.
I have been touched by the overwhelming gestures of kindness across tight-knit communities supporting their elderly and vulnerable neighbours with offers of help with their needs so they can remain in isolation and not leave their homes. I feel that compassionate care has taken a new meaningful form during the national Covid-19 lockdown and most people taken it upon themselves to willingly support the NHS and healthcare professionals. It is priceless that I was able to access local provision of sets of scrubs made by community volunteers for NHS workers. The patients I have cared for since the pandemic unfolded in the UK appreciate my work as a nurse and express their gratitude for the health service. I am proud to join the clapping that we seem to be shaping into a weekly tradition in recognition of the essential role of key workers and the kind actions of so many people who will be able to look back upon their own deeds during the Covid-19 pandemic with pride.
In 2020, the Year of the Nurse and Midwife, the healthcare we provide has been catapulted onto the world stage while we save people's lives in the Covid-19 pandemic – and compassionate care will be key.
Read more: Social care nursing is a unique profession – Covid-19 must not tarnish its appeal