A guide on how to train as a general practice nurse and build a career in primary care.
At such a crucial and unprecedented time for health and social care, the current focus has been on the secondary care responses to Covid-19. However, behind the scenes, primary, community and care home nursing teams have worked at pace to respond collaboratively to the current increased demand on their services.
To ensure a continued service to the public, general practice nurses have responded innovatively, ensuring that services in primary care have continued to meet the health care needs of their populations. These nurses and their colleagues are pivotal to the changing landscape of primary care services in preparation for future health care and the 'new normal'.
For registered nurses expressing an interest in a career in general practice nursing, either as an experienced nurse or newly qualified nurse (NQN), some of them continue to experience surprising difficulty in accessing this career pathway and ongoing support, due in part to regional disparity in processes, access to jobs and the educational preparation needed.
The Queen's Nursing Institute (QNI) has played a significant role in identifying and addressing the issue of retention and access to general practice nursing roles, including the publication of the General Practice Nursing in the 21st Century report (2016). This was based on data gathered from the survey responses of over 3000 practice nurses, which indicated that 33.4% of GPNs said they would be retiring by 2020.
Thereafter, and with the advent of the NHSE/I General Practice Nursing document, 'Developing confidence, capability and capacity: Ten point action plan for General Practice Nursing' (2017), an investment of £15 million from the General Practice Forward View (GPFV) funding (NHSE, 2016) was put in place to address the GPN recruitment and workforce challenges and to support improvements in general practice nursing by 2020.
Regional action has been proactive and collaborative in response to the Ten Point Action Plan (NHSE/I, 2017), in particular attempting to address identified shortfalls in nurses choosing general practice, either as a first career destination or a career move (action points 1, 4, 5 and 10 of the Ten Point Action Plan in relation to recruitment and retention).
The Ten Point Action Plan has shone a positive light on the GPN role and has gone some way in dispelling the perceived myths that general practice nursing is for nurses nearing retirement and the anecdotally reported myth of GPN as a less 'acute' discipline. On the contrary, the term 'primary care' is significant and indicates the obvious first point of access to health care for individuals, where true population health is addressed and where consultations take place centering on the needs and preferences of individuals, families and communities (WHO, 2019).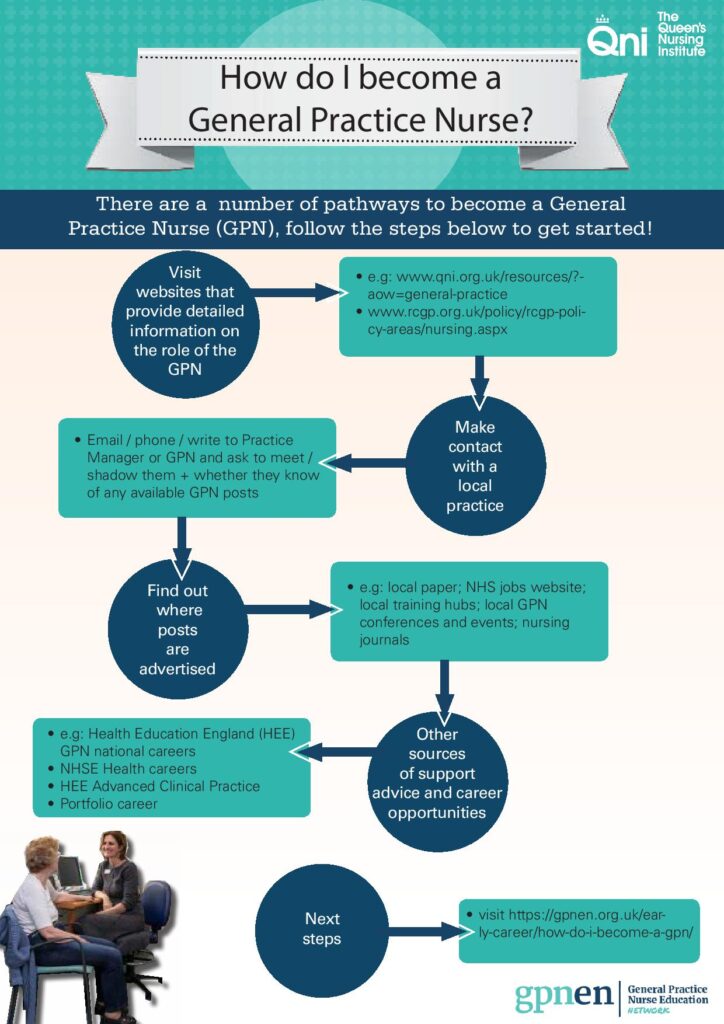 As an experienced primary and community nurse and academic at London South Bank University, I have gained significant insight into the complexities of recruitment issues within general practice nursing. A positive and collaborative approach with practice partners in recruitment, education, practice support and sustainability planning yielded low rates of attrition in student groups undertaking the Post Graduate Diploma and Post Graduate Certificate 'Introduction to General Practice Nursing' programme. However, it was identified that greater clarity of career progression in GPN was required, with parity across regions. This work led to my secondment at the QNI to lead on the development of general practice nurse resources.
To date, the QNI has produced a plethora of new resources to inform GPN education and practice including:
Transition to General Practice Nursing (2016)
QNI/QNIS Voluntary Standards for senior General Practice Nurses (2017)
In September 2018, the QNI was commissioned by NHSE/I to develop further General Practice Nurse Education resources including:
General Practice Nurse Induction Template (NHSE/I, 2019)
Voluntary Standards of Education and Practice for Nurses New to General Practice Nursing (QNI, 2020)
Development of the General Practice Nurse Education Network an online repository with free and easy access to GPN focused resources.
In response to the Covid-19 pandemic – Minimum Bridging Competencies for General Practice Nurses Transitioning to Community Nursing (QNI, 2020).
Despite some excellent regional approaches and support for nurses seeking a career in GPN, nurses continue to experience confusing and conflicting guidance. One of the challenges for registered nurses applying for a GPN vacancy is the frequent request for applicants to have similar experience to get on the first rung of the ladder. The GPNEN site offers initial career pathway guidance (Fig 1). However, there is a void on knowing how to access GPN roles and what training and education is required.
A career in general practice nursing
NHS Jobs now has a specific GPN platform but be aware that most GPs will ask for experience: continue to apply and ensure you identify your transferable skills.
Approach your local general practice nurse and discuss your intentions; they may be able to direct you to the GPN lead nurse within a local primary care training hub (every area of England now has a primary care training hub).
Contact your local university and course lead for the general practice nurse programmes available, as some pathways require you to be in employment with a GP practice. (You can access GPN university programme information on the GPNEN website for direct links to many programmes).
Access general practice nurse and community nursing journals for jobs and information.
Look out for funded training and placement opportunities for nurses new to general practice. This may be advertised on the GPN NHS Jobs website and clinical commissioning groups (CCGs)/training hubs.
A new concept of education and practice to support newly qualified nurses new to general practice nursing is 'The General Practice Fellowship'. This is a two-year programme of support and development for registered nurses who are in their first twelve months of working in General Practice after qualifying. Speak to your local lead general practice nurse or training hub lead to be considered for this programme.
Regional education and practice opportunities are available, so it is important to discuss this with your local training hub GPN nurse leads
Pippa Stupple, programme director for general practice nursing, Health Education England Wessex region, offers an insight into their successful approach to recruitment of nurses seeking a career in general practice nursing. She said:
We engage with all general practice nursing university programme career fairs and events and those nurses who express an interest are invited to an evening where the university, CCGs and HEE Wessex collaboratively present on the benefits and role of the GPN.
Final year student nurses enquiring about GPN posts in Wessex are encouraged to forward a CV and covering letter. With permission, this is distributed to general practices who may have vacancies in their preferred area.

Once you secure a job role within a GP practice, contact [me] to arrange an offer of a place on the 'Foundation in GPN course –Bournemouth University' which is fully funded by HEE Wessex.
Once both job role and university place are secured, a commitment statement [is signed by] … the nurse and the GP practice, evidencing commitment for the nurse to attend and complete the course.
One NQN who became a GPN commented: 'What a year to start nursing. I love my surgery so much, and I have to say, I feel very fortunate to be looked after with them and the local CCG. Everyone has done a marvellous job I think given these circumstances.'
Ms Struple said: 'We have a pathway for newly qualified nurses and other qualified nurses into primary care, with the support of HEE Wessex training hub a complete pathway from healthcare assistant to nursing associate to registered nurse and then to general practice nursing. I only wish all this training had been available to me over 35 years ago!'
Across the United Kingdom, there are examples of successful models to support registered nurses choosing general practice nursing as a career pathway. It is therefore worth taking the time to explore these options in your area.
The GPN Ten Point Plan work continues with a focus on the recruitment of registered nurses. In response to the Covid-19 pandemic, we need registered nurses in general practice more than ever. However, robust nationwide guidance is needed, to give clarity and parity for registered nurses choosing General Practice Nursing as their new career pathway.
Stay safe and don't give up: we need you!