Dr Joan Myers OBE, a Queen's Nurse and Royal College of Nursing London council member, on her rewarding two-week mission to Ghana.
Each year, Ascension Trust (AT), a Christian-based organisation, arranges an overseas mission to developing countries to help support schools, hospitals and local villages, and get involved in social justice and action.
I have been on several medical missions in different teams to Uganda and Kenya, which I've found rewarding – so was keen to join AT to lead their medical mission to a small rural village of just 600 people in Fawomanyo River in Ghana last October for two weeks.
Our team consisted of me, alongside general practitioner Dr Chi-Chi Ekhator, midwife Marcia Ogjuni and physiotherapist Sarah Williams.
Health checks
As the nurse in the team, I worked with the midwife, Marcia. We utilised our foundational nursing skills by doing initial health assessments and measurement of vital signs. We also worked in partnership with the local healthcare team, who interpreted for us where needed.
After recording vital signs and differential diagnosis from signs and symptoms presented by each patient, they were seen by the GP and paediatrician Dr Ekhator. She recorded that the typical conditions seen in the village included malaria, wounds (secondary bacterial infection), fungal skin infections, Sequelae of River bathing, uncontrolled hypertension, vaginal discharge / STIs and eye conditions (cataracts, glaucoma, conjunctivitis).
The majority of patients were mothers with young babies and children. They are at most risk of malaria and many of them tested positive for it. It was great working alongside local nurses who had malaria testing kits that provided results straight away, so we were able to prescribe the antimalarials required. In the outreach clinic, the ability to test and treat onsite is vital.
Overall, we set up makeshift health centres in three locations and worked to ensure as many vulnerable and needy people got seen and treated as possible. We also provided breast cancer awareness training to many women of different age. Often their husbands wanted to be involved too, which was good.
We learnt it is easy to support the local people when the chief is involved and endorsing the work we do, as he was able to provide medication and nursing staff to work with us. The local nurses enjoyed working with us as they saw it as a learning opportunity – and we learnt a lot from them too. They were very grateful for the blood pressure machines and gloves we donated to them.
Midwifery 
Marcia worked with one of the local nurses who taught her how to test for and treat malaria. She found it rewarding to employ a range of midwifery skills such as the systematic and holistic assessment of maternal and fetal wellbeing, which included abdominal palpation and auscultation of the fetal heart rate.
Marcia also saw a few pregnant women, which could be challenging. For example, gaining first-hand insight into women's histories could be a struggle as one did so through interpreters. One woman reported her last menstrual period was either in December or January. This presented a differential of eight weeks, information that could impact the care and advice offered.
But in another scenario, a woman expecting her fifth child came to clinic with reduced fetal movements. Making no promise that we would be able to hear the fetal heartbeat, Marcia first listened with a Pinard stethoscope and then auscultated with the hand-held Doppler. Both mother and midwife's faces were filled with joy when we heard the thud of that healthy heartbeat.
Physiotheraphy
The village's population is mainly involved in farming, plus a small amount of manufacturing and selling of wood, fruit and vegetables. They transport goods by carrying everything on their heads. This is mainly done by women, often with their babies strapped to their backs, and girls from a very young age. While farming, they flex to the ground with straight legs.
Sarah, the physiotherapist, noticed the main postural group was a very anterior tilted pelvis, increasing the risk of Lordosis. Adding a heavy load to a long neck adds to the issues as do multiple pregnancies, which often happen at a young age.  Many of the women who attended our makeshift clinic complained of waist pain. We would call it lower back pain in UK. Thankfully, our simple advice to perform the opposite movement to their sustained postures was well received.
A 13-year-old boy came limping with a stiff knee to see Sarah. His knee had good range, but the patella tracked laterally and vastus medialis obliques (VMOs) were non-existent. Sarah was able to teach him some VMO exercises. When he came the next day to see Sarah, he proudly showed her his knee. He had been practicing the exercises at home and there was a marked improve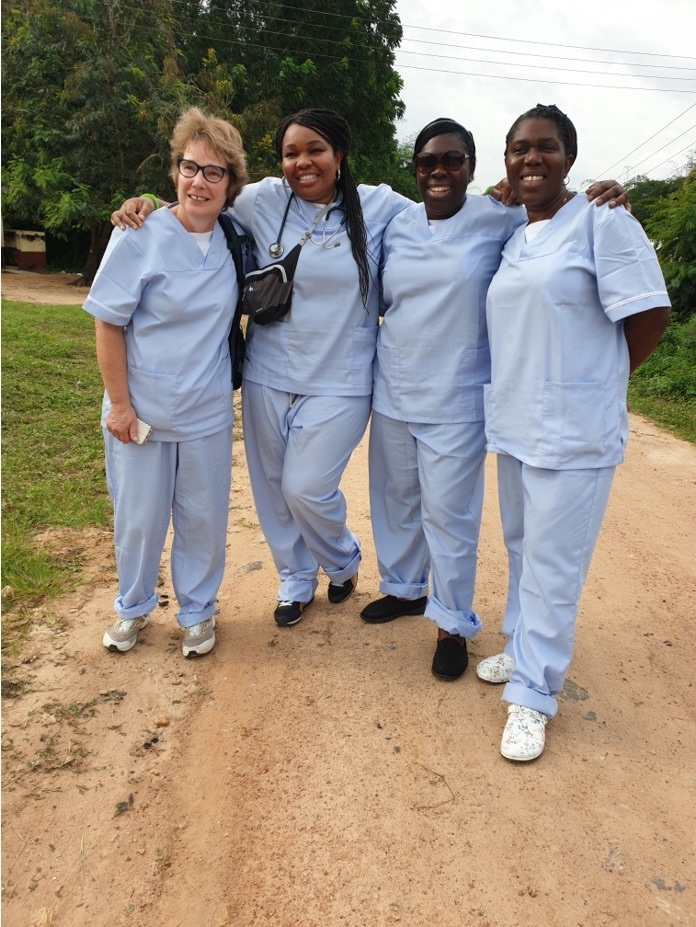 ment in his gait pattern.
There is a great need for education on musculoskeletal and postural exercise. It would have been good to work with a local physio and pass on some of the exercises that could be shown to patients.
The boy also had uncontrolled epilepsy as he often ran out of medication. Children with epilepsy are seen and managed by the local mental health nurse, as epilepsy appears to be considered a mental health problem in the village.
A rewarding experience
We were able to treat nearly 400 women, children, babies as well as a few young men and boy – including diagnosis, prescribing and providing health education. This was achieved by working hand-in-hand with local clinicians including nurses, a physician assistant, community health workers, community mental health nurses and health assistants.
It was very rewarding as many of the people we saw would not otherwise have access to a health clinic with doctors and nurses. Even if they had been seen and medication prescribed, they often would not be able to afford the medication or would not be given any if they did not show their medical insurance card. We were able to provide some of medication needed for free.