What makes you a Ninja Nurse? 
Profile: Debbie Brown
Role:
Primary care nurse consultant/advanced clinical practitioner in general practice
Clinical director for Lewisham CEPN
Editor-in-chief of Practice Nursing Journal
Degrees:
BSc community specialist practitioner in practice nursing
Specialties:
Special interests:
Long-term conditions
Training
I began my nursing career 38 years ago and moved into primary care nursing in 1998, where I still work today alongside a number of other roles within the sector. I became London's first primary care nurse consultant in 2015 at NHS Lewisham CCG. In this role, I provide strategic and integrated nursing leadership across practice nursing services in Lewisham. One of my biggest accomplishments has been raising the profile of practice nursing in general practice by sharing good news stories about practice nurses in the local media and developing my own practice nurse newsletter. I also work with local universities to secure placements for first, second and third year student nurses. Of the six third year students, who completed their three month management placement, five have found general practice nurses (GPN) roles in Lewisham. Within my own practice I have supported 20 students in the last year, including community pathway and elective placements, from in and out of the borough.
I devised and led the first GPN conference in south east London last year. The event addressed some of the actions now documented in the GPN Ten Point Plan, promoting resilience, retention and recruitment of GPNs. In total, 260 nurses attended from our neighbouring boroughs (Lewisham, Lambeth, Greenwich, Bexley, Bromley and Southwark) as well as across England. At the event, I introduced an award for the south east London practice nurse of the year, which was nominated by peers across the patch. As a consequence of the conference, I became a conduit for nurses from other disciplines wanting to work in primary care and I am pleased to say have helped seven nurses secure practice nurse roles in Lewisham, and shared CVs with other CCGs/Community Educational Provider Networks (CEPNs).
Alongside this role, I work three days a week in a GP practice as an advanced clinical practitioner.
Following a training needs analysis I identified a gap in both training needs and training provided. I approached Health Education England South East London to set up a CEPN in Lewisham. We have worked with universities to co-write bespoke relevant courses for GPNs, including two successful four day acute paediatric presentations in primary care, where GPNs have positively evaluated and started to change practice.
I represent south east London CEPNs at the London region GPN Ten Point Plan board, ensuring the voice of GPNs are heard at strategic levels and information is shared back to GPNs.
Have you ever had to use your Ninja Nurse powers to rescue a GP?
I recently supported one of the GPs when the other two GPs phoned in sick. I was on annual leave but came in to cover sessions, successively managing both telephone and face to face triage.
Why do you think practice nurses are 'ninjas'?
GPNs are on the frontline of general practice, they provide care to patients across the whole lifespan, from taking blood pressure checks to advance clinical practice and prescribing. Just like a ninja they are highly trained experts in their field who are prepared for anything, working in an ever changing and challenging landscape where demand is constantly growing. GPNs deploy a professional demeanour with a personable approach, while delivering clinical care and skills to everyone and anyone who comes into their practice, and are the unsung heroes of primary care.
What would you like to see changed in order to increase appreciation for practice nursing?
I'd like GPNs to have a platform to raise our profile and our voice. Have more opportunities to engage with the public at scale. To be more joined up with primary care colleagues, recognised as generalised specialists, and recognised for our full potential, so that we complement our GP colleagues and become part of the solution.
Do you regularly work overtime or through your breaks?
I often work outside of scheduled hours because of the increased workload, complex presentations and colleagues' need. Unfortunately, health doesn't neatly fit into a 9-5 routine, but I understand that and work flexibly from 7am to 6pm to bring the best outcomes for my patients, families, carers and colleagues.
Are you involved in any practice initiatives?
I lead group insulin and GLP-1 starts with dietetic support and have supported more than 30 pre-diabetic patients 'walk away from diabetes'. I support a local patients Diabetes UK group  and  instigated and  contributed  to running 'world cafes'  for our  BAME population with diabetes or cancer.
Would you encourage other nurses to move into general practice in 2018?
Absolutely, it's the best job ever! It's a privilege to be part of people's journeys throughout their life cycle. GPNs are the only nurses who see and treat patients with mental health, learning disabilities, pregnancy, adults, children and babies providing prevention, public health, and complex person centred care.
Primary care offers opportunities to develop your knowledge, skills and self from general practice nurse to advanced clinical practitioner to nurse consultant.
Anyone interested in practice nursing is welcome to join our local GPN conference in Lewisham on 12 June.
Be part of our Ninja Nurse campaign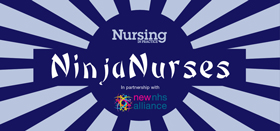 Are you a Ninja Nurse? Know someone who is? Click here for details on how you can nominate either yourself, or someone else, to be featured in our Ninja Nurse campaign.
Every practice care nurse featured will be sent a mug proclaiming them a Ninja Nurse.