What makes you a Ninja Nurse?
Profile: Helen Crowther
Role:
Macmillian senior nurse manager
Degrees:
Professional studies in nursing
Sexual health & contraception
Specialist interests:
Cancer care
Health promotion
Digital services
Sexual health & contraception
Recognising a decline in ladies attending for cervical screening, I changed our practice protocol resulting in dramatic results. An average 17 samples were taken every month at the time and this increased to 45 within three months. One month the team took 79 cervical smears!
I put this success down to 'going back to basics', using local knowledge and breaking down barriers. Screening is at a 20-year low and we all need to do something about this.
Over the last two months I have been adopted by Macmillan, won an Ant & Dec Woman in the Community award and started supporting my CCG to role out Cancer Champions. I'm delighted to be able to work to improve things.
Have you ever had to use your Ninja Nurse powers to rescue a GP?
Every day! We all do!
I live on a remote farm in rural Weardale and have never had a day off sick in 13 years, sometimes trekking through 10ft snow drifts, with a 4 hour return walk. Those North East ninja powers really came alive this winter!
Why do you think practice nurses are 'ninjas'?
The history of practice nursing is interesting – times have changed so much. Now we need to start networking more – this is how we can use our ninja power! Together we can encourage each other and share best practice to take practice nursing to the next level
What would you like to see changed in order to increase appreciation for practice nursing?
We need to encourage practices to showcase when things go well. It's not something nurses are typically good at so therefore we need practices, federations, CCG and data collectors to speak up for us.
Do you regularly work overtime or through your breaks?
I work as a Macmillan senior nurse manager, covering three sites across 250 square miles! I am keen for everyone else to leave on time, however my car is often the last one in the car park. This is my decision but I am results-driven and often need to put in the extra mile. I am lucky to have fantastic child care and know my dinner will be made if I stay late!
What practice initiatives are you involved in?
This is my passion. Point 6 of the ten point plan is to 'embed and deliver a radical upgrade in prevention'. The cervical screening best practice is now being rolled out across the local CCG, and I'm proud to be involved.
It's great to see the results. We are the highest screeners in the locality and the third highest screeners in the country.
This is just the start though and this week I have introduced a men's health clinic. The feedback has been extremely positive. I can't wait to attend the local livestock mart to get this rolled out to my farming community!
I am also keen to increase breast screening rates to our ladies over the age of 70. The screening unit is currently in our area so have just sent out letters to those ladies.
Are patients and other practice staff aware of your initiatives?
I have a very supportive team from GP partners and the senior management team to the nursing and admin teams. They all get on board will my ambitious initiatives and share my passion.
Our patient group is also kept up-to-date and help inform our wider community on our plans and good news stories.
Being a lifelong local has enabled me to use my knowledge of our target groups – most who have known me since I was a little girl!
Would you encourage other nurses to move into general practice in 2018?
I've been working in general practice for over 13 and qualified for over 18 years. Pressures are increasing and change is the only consistent thing. But with that said, there is nowhere I'd rather be. It is certainly not boring because every day is different.
The 10 point plan is encouraging newly-qualified nurses to join us. Training has also greatly improved with universities helping to develop the skill mix of practices. The future is bright!
Be part of our Ninja Nurse campaign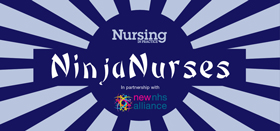 Are you a Ninja Nurse? Know someone who is? Click here for details on how you can nominate either yourself, or someone else, to be featured in our Ninja Nurse campaign.
Every practice care nurse featured will be sent a mug proclaiming them a Ninja Nurse.