What makes you a Ninja Nurse?
I studied to be an advanced nurse practitioner (ANP) in 2013 and, as part of the course, I had to develop an idea that would fill the gap in service provision in my area of work. I have
a keen interest in working with the elderly and especially housebound patients, as they are extremely vulnerable. In my area, the practice nurses do not go out on visits and the GPs are too stretched to provide chronic disease management reviews to those who are housebound. 
Profile:
Julie Neylon
Role
Advanced nurse practitioner
Qualifications
Diploma nursing
BSc nursing
BSc community health
V200 independent prescriber
MSc advanced practice
Special interests
Elderly care and respiratory disease
My project was to provide an ANP-led service to housebound patients. This allowed me to provide equity of care to all those registered at the practice and, in turn, reduce unnecessary hospital admissions. The project was a great success; it prevented several hospital admissions and brought care to those who needed it the most. I have had my work published and, most recently, have been put forward for the Practice Nurse Innovator of the Year award from Greater Manchester clinical commissioning group for my services in general practice.
Have you ever had to use your Ninja Nurse powers to help a GP?
My role as an ANP allows me to be the support network between the nursing team and GPs. In my area of practice, the teams work well together to manage our patients effectively.
But yes, I have been phoned at home for advice by the on-call GPs. This makes me feel valued and respected.
Why do you think practice nurses are Ninjas?
The role of the practice nurse is often overlooked and yet it is a powerful role. Practice nurses are trained in all aspects of care, and have a fantastic knowledge and skill set, which is ever-increasing. Long gone are the days of task-orientated nursing. Practice nurses are recognised for their autonomous working, which can only be achieved by having confidence in their ability.
What would you like to see changed in order to increase appreciation for practice nursing?
I think the pay needs to be looked at to reflect the role. Also the public needs to be further educated on the diversity of the role as, in many cases, their care could be provided by a nurse rather than a GP.
Do you regularly work extra hours or through your breaks?
I often work during my breaks. I see mostly the same patients as a GP with similar conditions, yet as an ANP I have not had five years at medical school. I am less experienced and feel less confident so, therefore, I am very thorough with my history taking, clinical examinations and management plans. I am happy to run over if it means my practice is effective and safe.
Would you encourage other nurses to move into general practice?
I would as it is rewarding and challenging in equal measures. I really enjoy getting to know and care for the extended families within the local community, and I genuinely think the patients like it as much as I do. Practice nursing allows you to develop your clinical knowledge and skills within an autonomous environment. The opportunities are endless and with more care moving to the community – we need you!
                 Be part of our Ninja Nurse campaign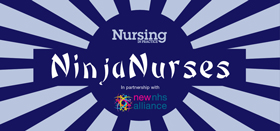 Are you a Ninja Nurse? Know someone who is? Click here for details on how you can nominate either yourself, or someone else, to be featured in our Ninja Nurse campaign.
Every practice care nurse featured will be sent a mug proclaiming them a Ninja Nurse.