What makes you a Ninja Nurse? 
Profile: Katherine Parker
Role:
Nurse practitioner
Lead practice nurse
Degrees:
Professional studies of nursing
BSc Community Specialist Practitioner Practice Nursing
Specialties: Diabetes
Special interests:
Minor illness
Chronic disease
I lead innovative work at our practice across a number of areas, with particular focus on social prescribing and advocating a non-medicalised responses to supporting people who are predisposed to being lonely or anxious, or to following unhealthy lifestyles.
I established an eight-week 'vegetables on prescription' course with a third-sector partner to support our patients to learn how to sow seeds, grow vegetables and cook healthy, balanced meals. The project has been successful in supporting the elderly, young families, and the widowed and lonely in our community. All of the courses have been full to capacity so far and the feedback has been extremely positive.
I also worked with volunteers and the practice team to invest in an allotment to aid patients, staff and the community. We then identified and supported health champions to take this forward.
This year I was awarded the Greater Manchester General Practice Nurse Innovator of the Year award and my team was named General Practice Nurse Team of the Year. It is fantastic to be recognised for doing what we love!
I started asthma parties in the practice for children with asthma and their families, supporting a number of patients in a single hour session, encouraging peer support between families and advising the children through fun and games. I also implemented group consultations for other chronic disease areas, helping to reach a larger number of patients at once.
In our practice we have 'Fruity Fridays' where we leave a selection of fruit in the waiting room for everyone to enjoy and a 'Wednesday Wander', led by our health care assistant and attended by staff and patients from our practice as well as neighbouring ones. We also run education events, our first one being on women's health, in collaboration with local businesses and local partnerships.
We provide all of these initiatives to aid healthy living and prevention and to reduce the need for GP appointments. It is a complete team effort and we all hold the same values and principles. I'm proud to be part of The Alvanley Family Practice and to have such an enthusiastic and forward thinking 'work family'.
Have you ever had to use your Ninja Nurse powers to rescue a GP?
As I lead on diabetes within the practice, the GPs often ask advice around diabetes management, medications and insulin. I am also often called upon when we are waiting for an ambulance and need to admit patients to hospital, to reduce anxiety and monitor their condition whilst waiting. Equally, I come to the rescue when the GPs are dealing with children and a much-needed 'CBeebies' entertainer is required! I have many hats that I juggle… and also a few puppets!
Why do you think practice nurses are 'ninjas'?
Working as a nurse in general practice has to be the most diverse nursing role. An increasing shift of care from hospitals to general practice provides us with a dynamic ans autonomous role and exciting career choice and development for the future. Dealing with all ages and all conditions enables us to specialise in our chosen field, have big impacts to patients' lives, and have great job satisfaction. I can honestly say I learn something new every day!
What would you like to see changed in order to increase appreciation for practice nursing?
I would like for us to be recognised as cape-wearing ninjas rather than black shoe-wearing, bicycle-riding nurses! Practice nurses should be recognised as specialists in our chosen areas and this should be celebrated. I want future nurses to see what an amazing multi-faceted role it is and consider it for their career.
We don't come to general practice to slow down; we come here to further increase our specialist knowledge, work autonomously and extend our competencies. We are highly skilled, independent and autonomous practitioners, and the feedback we get from student nurses placed with us reinforces that this is evident.
Do you regularly work overtime or through your breaks?
Yes, I often work over lunch as there is a lot to juggle, keeping up with paper work, telephoning patients, supporting the nurse team and reporting blood results. For this reason I incorporate flexible working into the day. I always make sure to eat lunch though! We ninjas who are passionate about primary care and all it brings need fuel for our fire!
Would you encourage other nurses to move into general practice in 2018?
This is an exciting and challenging era for nurses, especially those working in the community who have a pivotal role in delivering care closer to home for a growing and ageing population. It is time to raise the profile of general practice nurses and encourage recruitment and retention. Where else would you deal with patients from newborn to 101? It's so rewarding I wouldn't contemplate a role anywhere else.
Be part of our Ninja Nurse campaign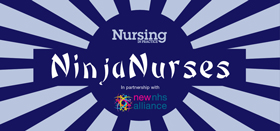 Are you a Ninja Nurse? Know someone who is? Click here for details on how you can nominate either yourself, or someone else, to be featured in our Ninja Nurse campaign.
Every practice care nurse featured will be sent a mug proclaiming them a Ninja Nurse.