We are profiling amazing practice and community nurses, and midwives, during the Covid-19 pandemic as part of our Nursing Stars campaign with New NHS Alliance. Here is Emma Manuel.
What is your usual role?
I am the lead clinical college nurse at St John's College, University of Cambridge – and think the whole team of Cambridge College Nurses is full of nursing stars.
In a 'normal' term, around 26 nurses support the students, staff and fellows of the 31 Cambridge colleges. Our students total around 20,000 living within college grounds, in housing supplied by the colleges or through privately rented accommodation. The age range of students is from 15 years upwards and many students are international.
Students will access our service for literally anything and during their time studying we get to know them, sometimes better than their own families.
What work have you been doing during the Covid-19 outbreak?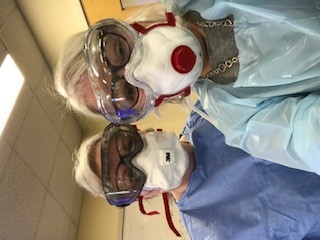 During the Covid-19 lockdown, there have been around 4,000 students living in Cambridge; this being their only home, travel restrictions and unable to leave, or for a variety of social reasons. It was heartbreaking to see some of those that could leave-with their cars piled high, not knowing when they could return. Their dreams and plans on hold indefinitely.
There have been confirmed cases of Covid-19 within the collegiate community and college nurses have been at the forefront of supporting self-isolating, house isolating and shielding members of our colleges as well as offering remote support, through telephone or video consultations to countless others.
We are now looking forwards and are involved in the strategic and operational planning to resume life for the students and staff of our colleges in as 'Covid 19 safe' way as possible, as we transition back into being 'open' and move into a different version of normal.
Why would you say you and your team are a Covid-19 Nursing Stars?
We have taken on this challenge with the flexibility, compassion, diligence and professionalism as any other faced previously. The team have had to become health leads in a rapidly evolving situation.
Things are by no means straightforward and there is much work to be done, but I am immensely proud to be a nurse and working with truly amazing people, in my own college and the college nurse network. I know we are all in this together.
Both as an individual as as part of the Cambridge College Nurses Assocation, I am most proud of how our supportive network gor each other has improved through communication. We have always emailed each other for peer support and we have small group reflective practice meetings (now through zoom!). But, for the first time we have a WhatsApp group, for fun stuff such sharing photos of our pets, grandchildren (two newborns during the lockdown), our children and an abundance of jokes and videos.
To have humour and friendship as well as the more formal communications via email has really helped. I think we have learnt a bit more about each other and in this very personal and isolating pandemic, as we are sole or dual workers in our colleges, we can reach out and almost instantly be connected.