For anyone hoping for a radical shift in the way the country is run, June's snap election result was arguably a disappointment. 
And yet it was not the landslide Conservative win predicted by early polls. 
Prime Minister Theresa May has had to strike a controversial deal with Northern Ireland's Democratic Unionist Party (DUP) to get the majority needed to form a government. She is already on very thin ice and it looks likely to be a perishing hot summer of discontent where nurses are concerned.
Money worries
The top issue is, of course, pay. NHS nursing pay was capped at a 1% rise for the seventh successive year in April and is due to remain so until 2020. According to the Royal College of Nursing (RCN) and Unison, this has lead to a 14% real-terms drop in salary for some nurses. 
The RCN has launched a summer of planned protest activity following the Government's failure to scrap the cap. To add to nurses' discontent, 2017 is the first year the bursary cuts will come into effect, with the potential to further compound a workforce crisis – with a reported 40,000 nursing vacancies. The situation regarding pay is reaching boiling point, as signaled by RCN Congress in May. 
Following the results of a pay poll in April, where 78% of the 52,000 respondents said they were willing to take industrial action, RCN members passed a resolution for a summer of planned protest activity 'followed by an industrial action ballot should the next UK government fail to end the policy of pay restraint'.
The RCN council chair, Mike Brown, criticised the Treasury for being 'tied to austerity' and said the organisation is 'seeking a fair wage for an undervalued profession'. 
The Queen's Speech on 21 June did not take note of concerns regarding the NHS. It did, however, mention 'strengthen[ing] the economy so that it supports the creation of jobs and generates the tax revenues needed to invest in the NHS, schools and other public services' along with a planned reform on mental health laws and an increase in the minimum wage.
A Department of Health (DH) spokesperson said: 'As the Secretary of State has made clear, the support and welfare of NHS staff is a top priority as they do a fantastic job. The Government is committed to ensuring they can continue to deliver world-class care.' 
The DH also highlighted that this year's pay uplift was an independent recommendation made to the Government, which it accepted. That recommendation came from the NHS Pay Review Body. However, it did express concerns in its Thirtieth Report 2017, published in March. 
It suggested that the 'current rigid pay policy could be storing up problems for the future' and called upon the Government to question the policy on pay before the situation 'overtakes them'. 
No change for the better
The picture is more complex for practice nurses, whose wages come out of all elements of GP practice funding – in particular the global sum, the quality and outcomes framework and enhanced service agreements. The GP contract has been funded through this year's contract deal for a 1% rise in pay, which the doctor's union, the British Medical Association (BMA), pointed out 'essentially must cover a wide range of outlays including patient care'.
This year, the global sum went up to £85 from £80 per patient; the BMA says that '£3 of this was from the decommissioned unplanned admissions service, which essentially means it was not new money for the vast majority of practices'. So it cannot be assumed that this increase will be felt by practice nurses, particularly when practices are also fighting for survival. 
Sara Gorton, recently appointed head of health at Unison, says that while larger general practices do mirror Agenda for Change and the annual uplift, 'we've seen that change over time'. She referenced a First Practice Management survey, which found that general practice staff are, on average, £1,000 to £1,500 worse off than their NHS counterparts. 
She added that administration staff have fared even worse as they have not had a pay rise in years, which means they leave. Practice nurses are filling the gap in some cases.
Unison is urging the Government to end austerity in the NHS and 'turn the tide and not wait until we are in a formal dispute and have got a workforce that cannot cope'.
Ms Gorton wants the Government to take a look at pay grading as midwives and paramedics get paid at a higher grade because their job entails independent clinical decision-making. The same can be said of many community nursing roles. She says they could be getting more than £4,000 extra a year. 
She adds that a lot of nurses have been working free for at least an hour a day and highlights the fact that if practice nurses are expected to help with practices opening at different times as part of extended hours, they need proper recompense.
'Employers need to recognise that if they want the staff with the right skill set they are going to have to pay fairly for it. We will organise campaigns and events in the summer to get the Chancellor, Philip Hammond, to realise ahead of the budget that if there isn't a shift on public sector pay, we will reach a crisis,' says Ms Gorton.
Time to shout louder
Heather Henry, an independent nurse and co chair of the NHS Alliance, says that nurses have lost their voice under the last Government, mentioning the scrapping of the nursing, midwifery and allied health professionals policy unit as one example. 
'Nurses are the most trusted profession by the community and there is a complete disparity between that and what the Government thinks, and that showed up in the ballot box,' she says. 'If health secretary Jeremy Hunt presides over the first industrial action taken by nurses in this country, it would be indelibly on his record as a disgrace.'
However, Mr Hunt recently gave an indication that there might be movement on the pay freeze. In his speech at the NHS Confederation conference held in Liverpool on 15 June, he said:
'I have a great deal of sympathy for the case that nurses and others have made on the issue of pay. We need to factor in that there is an enormous amount of goodwill and an enormous amount of time given free of charge because people care about their jobs and see them as a vocation. We have our budget that we have to live within. But public sector pay is a matter for the Chancellor as it's a policy set across the whole of Government.
'I have had a constructive letter from the RCN chief executive Janet Davies since I came back into office and I will make sure our conversation is reflected back to the Chancellor before he makes that decision,' he said.
Pushing for change
But it didn't stop with Mr Hunt and the Chancellor. First, Labour attempted to have the freeze scrapped with a motion in Parliament, but was voted down by Conservative and DUP MPs. This was then followed by several Conservative ministers adding their voices to
a growing clamour for the freeze to be scrapped. Environment secretary Michael Gove claimed that the Government should 'listen' to the pay review bodies that govern each area of public sector pay, with similar quotes attributed to foreign secretary Boris Johnson via sources in the national media.
The devolved Scottish government responded to the lost Labour motion by pledging to lift the 1% pay cap on public-sector workers in Scotland, with the Scottish finance secretary Derek Mackay claiming that they will take 'a reasonable approach that recognises that the time is up for the 1% pay cap'.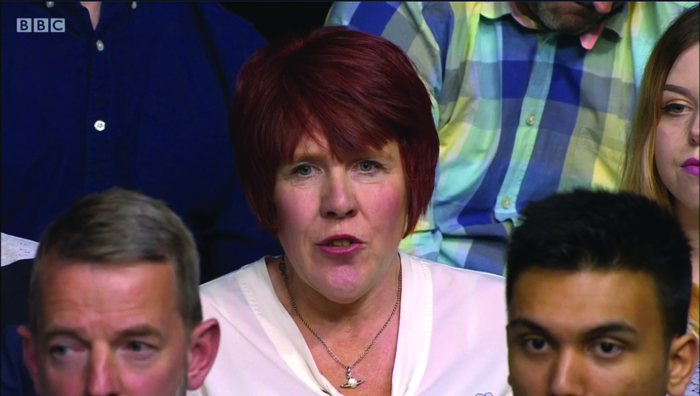 The nurse who challenged the PM on pay
In a Question Time leaders special on 2 June, nurse Victoria Davey questioned Theresa May over nurses' pay.
Putting Ms May on the spot, she asked: 'I have worked as a nurse for 26 years. Do the Tories expect our support in the light of another 1% pay increase?'
The PM responded by claiming that they will 'continue to put more money into the NHS in the future', and that they recognise the work of NHS staff. Her claim that nurses 'get an increase' was met with outrage by members of the audience, with one man stating that it was a 'real-terms decrease of 14% since 2010'.
Ms Davey said her wage slips from 2009 'reflect exactly what I'm earning today', and questioned the fairness of nursing pay.
Ms May said: 'We've had to take some hard choices across the public sector in relation to public sector pay restraint. And I'm being honest with you that we will put more money into the NHS, but there isn't a magic money tree that we can shake that suddenly provides for everything that people want'.
Now what?
Although Scotland has made moves to remove the 1% pay freeze, the Conservatives have maintained their commitment to the policy until 2020. So now all eyes turn to the RCN, and their threat of strike action.
However, Ms Henry doesn't think practice nurses would countenance industrial action on account of 'morals and loyalty'. 
Ms Henry also expresses concerns about how they would be galvanised into action as 'they don't work for the NHS and are under-represented in unions. Some stopped being members of the RCN when it stopped indemnifying them'. She says the only way they could show solidarity would be to leave their employers.