The rise in nursing shortages has given way to the dramatic emergence of the healthcare support worker undertaking many of the tasks usually done by registered nurses. In 2013 it was estimated there were more than 1.3 million frontline support staff providing care to those in residential establishments, nursing homes, hospitals and patients' own homes. There are more care assistants than nurses working in England.1 Today, nursing vacancies have reached more than 40,000 and the delegation of care to unregulated staff has become even more necessary to ensure patient throughput, comfort and safety.
As a consequence, the boundaries of nursing roles have become blurred, with healthcare assistants (HCAs) and associate practitioners taking on duties once performed by nurses and doctors, with no compulsory or consistent training and using a profusion of titles that could confuse health professions and the public. The key to successfully utilise this unregulated workforce is delegation by regulated registered staff to willing and well-trained workers.
Practice nurses should be well versed in safe and effective delegation of duties as it is a requirement of the Nursing and Midwifery Council's (NMC) code of professional practice.3 However in reality, delegation can be fraught with tension, concerns for patient safety and confusion over accountability.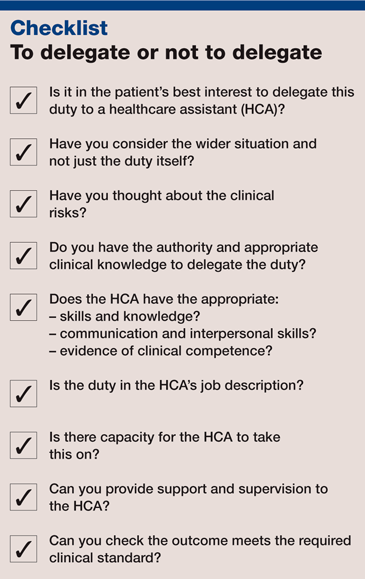 Benefits of delegation
In theory, delegation of roles and responsibilities should be a win-win situation.
Delegating to others creates manageable workloads, allowing qualified staff to fulfil the professional responsibilities only their training and experience allows, while providing patients with care and observations they need.
Sharing and shifting tasks in a team creates good working relationships, allowing insight into roles and responsibilities. Trusting others with enhanced responsibilities motivates a team to work together.
Delegating increases confidence in the individual taking on the higher responsibilities and increases their status. It develops the skill set of the practitioner, offering new opportunities and career progression.
Delegation can free up time to develop the service and the staff. In this way, delegation can be seen as an investment for the future of the service and staff.
However, it is important to plan for safe delegation and staff development. All too often support workers are delegated responsibilities in an ad hoc fashion because services are short of staff, and, consequently, short of time.
Accountability and duty of care
The biggest concern and confusion for nurses around delegation appears to be that of accountability.
Healthcare providers, as organisations, are accountable to civil and criminal courts to ensure their services meet legal requirements. Healthcare employees within these organisations are accountable to their employer under their contract of duty. In addition, practice nurses are accountable to the NMC not to abuse trust and justify their professional actions.
A duty of care is enshrined in law on all practitioners, be they HCAs, students or assistants, working in teams or individually, where it is 'reasonably foreseeable' that they may cause harm to patients through their actions or failure to act. The key point is the standard of care expected of practitioners performing particular roles and the competency of the practitioner to perform to that standard. Practitioners must inform a senior staff member if they are unable to perform competently.
In reality, the difficulty lies in practitioners themselves being unaware that they are not competent or staff being pressed to delegate to others but not being assured of their competence for the task. This is particularly challenging when practitioners work alone in isolation: they are not observed and do not observe others – so monitoring of standards and competency is absent. Practice nursing and community nursing are particularly vulnerable.
Employers' responsibility
All employers, including GPs, are accountable for the actions of their employees through vicarious liability. Therefore, the employer must ensure that all practitioners are trained and supervised until they can show competence, especially if that role is being extended as with support workers, and that employees work within their sphere of competence.
How to delegate safely
Practice nurses have a duty of care and legal liability for patients and as such, are accountable for the decision to delegate a task or duty. Although delegated to another practitioner, we remain responsible for the overall management of the patient through assessment, planning and evaluation of the standards of care they receive.
To ensure the safety and certainty of the task delegated, the delegation must be appropriate. Therefore, it is imperative the delegatee has the competence to perform, they fully understand your instructions, they are adequately supervised and supported and the outcome of the delegated task will meet the required standard.
If these elements are in place, you are not accountable for the decisions and actions of the person to whom you have delegated. The delegatee becomes accountable because:
They have the ability (knowledge and skills) to undertake the activity or intervention.
They accept the responsibility for doing the activity.
They have the authority to perform the activity because it is within their job description/role and is supported under policies/protocols of the surgery.
They take social, ethical, legal and contractual accountability and are responsible for the tasks they accept.
In delegating to another, nurses must make appropriate support and supervision readily available considering the recorded knowledge and competence of the worker, the needs of the patient, where the activity is taking place, such as in a surgery or care home, and the activity assigned, such as flu vaccination administration, wound dressing or smoking cessation clinics.
Others in the wider team must be informed of the delegation. The delegator should assess the whole process for risk and be able to evaluate the process so any difficulties are eliminated.
The Royal College of Nursing (RCN) has an excellent publication and accompanying accountability and delegation video that has case scenarios and would be a valuable reminder and discussion topic for general practice teams.4
Principles of delegation
RCN guidance confirms that delegating care to another practitioner must always be in the best interest of the patient and not done to save time, money or create status.4 
The delegatee must be suitably trained for the task with records and dates kept, with recorded evidence of competence. The training should be set against recognised standards where possible – such as spirometry skills for primary care – and there should be ongoing development to maintain competence. The role undertaken must be in the HCA's job description and the surgery should have clear guidelines/protocols available so the HCA is not required to make an untoward clinical judgement. 
Training and competence
Best practice requires the delegator to be assured that the delegatee is competent. The Core Skills Training Framework skills passport offers a standardisation for HCAs but it is basic, mainly meets mandatory training requirements and is not a requirement of employment, especially outside NHS organisations, such as in GP surgeries.5
The Cavendish review has made recommendations for health and social care support worker training that would support safe delegation and clarify accountability.1 This is especially pertinent for practice nurses and GP employers where the supervision, training and accountability for HCAs are often unclear. Anecdotal reports of HCAs undertaking nursing and clinical procedures without meeting the requirements of safe delegation (as outlined above) compromise nurses within those surgeries and creates uncertainty over whether responsibility lies with the practice nurse employee or the employing GP.
Marilyn Eveleigh is an independent nurse consultant and trainer, and former primary care trust head of patient safety and quality
References
1 Department Health and Social Care. The Cavendish review: an independent review into healthcare assistants and support workers in the NHS and social care settings. London;DHSC:2013
2 Kendall N. How new nursing roles affect accountability and delegation. Nursing Times;114;4,45-7
3 Nursing and Midwifery Council. The code: professional standards of practice and behaviour for nurses and midwives. London;NMC:2015
4 Royal College of Nursing Accountability and delegation. A guide for the nursing team. London;RCN:2017
5 Skills for Health. UK core skills training framework. Statutory/mandatory subject guide v1.3. London;Skillsfor health:2016