Independent nurse and chair of New NHS Alliance Heather Henry talks to Alice Harrold about the importance of promoting the profession to GPs and employers
Tell us about your role.
We've had a general practice nursing (GPN) network at NHS Alliance for a while and we've been involved in primary care since we started, so I've got several roles. I've got the chair role at the Alliance, and then my day job [as an independent nurse] in which I'm mostly known for doing community-based development work. 
I've just started doing some work for children with asthma. Of course, when you're working with children, they're not interested in the mechanics of asthma and the inhalers. So instead of a group consultation, I have an asthma party for them. For example, the idea of 'singing for breathing' is well-established in adults with asthma but not in children. So I'm doing some singing for breathing work with them. It's called Breath Stars, in which they sing songs, write poems, that sort of thing…
I started off in Eccles with seven practices, trying to encourage them and the community to work together, and the idea for the asthma party started there. I just took it on from there and I started writing stories for children. I told a group of children in a school a story about how Billy took his sister to the pharmacy, and all the children came out of the school to tell their mothers that if there was anything wrong with you, you should go to the chemist first. And the number of consultations for minor ailments in pharmacies in the area went up as a result of that. So I realised that children are very powerful, and I think the way that we connect with children as nurses tends to be very clinical, and we should have fun with them instead.
These sessions are definitely clinically relevant because they have got to have a clinical purpose. So for instance, in children's assemblies I've got 320 children in front of me, and I've got a gun belt on. And on one side is a preventer and the other side is a reliever. And I've got a puppet and I'm telling the children the story of the three little pigs and the big, bad wolf, and the big, bad wolf had asthma. And he can't blow the piggy's house down without the children coming to show him how to use his inhaler. And there will be clinically accurate teaching, so we'll be using the correct inhaler technique, with the correct spacer, with the correct names for things. And at the end, the big, bad wolf gets a lungful of smoke and the children have to know what to do with an acute asthma attack. And they will know by the end of that session and so will all the teachers.
Do you think that's something an ordinary practice nurse could do?
Well, I've been out to visit three practices to ask them that. The first practice had a nurse partner, this was in Leigh, and her practice manager had already started working in schools. The second one, the nurse said that she'd love to do it but the GPs would have difficulty with understanding the difference between a consultation and singing to children. But they'd love to try it. And the third one said, 'Where do I start?' So the thing about practice nurses that I really love is that they are strong. They're survivors. I would say they have a lot of grit. I did as a practice nurse. And that they should use their qualities to change their clinical practice as they see fit. Without practice nursing, what would we do about long-term conditions? GPs have become de-skilled in this area. And my message to GPs is you've got to give the nurses some leeway to change things.
What is the Ninja Nurse campaign?
I work with Louise Brady, who is an extremely well-known practice nurse. Louise basically stalked me on Twitter until I got to know her. But she is very skilled in many ways, and she and I launched a GPN network within the Alliance, a couple of years ago now. 
Then one Friday night, I felt we needed something that would capture the imagination of practice nurses and bring us together, and start to show the Twitter community, because Twitter's very important to nurses. So I just happened to tweet Louise and say, 'I thought about this hashtag of #GPNNinja, what do you think?' And then she retweeted it or something, I can't remember, and I spent the rest of my Friday, Saturday and Sunday talking to nurses on Twitter about how they were ninjas. Ninja means invisible warrior, so it was very apt, because the practice nurses have that invisibility. Other community nurses have that problem too, compared with secondary care. But, of all the nurses that work in the community, the most invisible are the practice nurses. And they are warriors. I had to battle as a practice nurse, and to me it seems that, although many things have improved, practice nurses still have to battle. 
Then I sent a picture out on Twitter asking everyone what makes them a GPN ninja. Louise particularly helped me by engaging a number of nurses, doctors, medical students, and patients who sent in pictures of why they or their nurse was a GPN ninja. But one of the main objectives was to connect with employers because they use Twitter too and it's the employers that we need to talk to.
So we can't really put all of the onus on the nurses to change things, it really has to be more about the employer who has the mechanism to do that?
Yes. There are many things that are seen as a barrier. If the payment for having a student nurse, or to mentor a registered nurse, isn't enough for GPs, they won't do it. Although I think that's being looked at. It's people such as Peter Lane, who was the co-architect of the 10-point plan and has been intimately involved in GP Forward View, Maureen Baker, the former chair of the Royal College of General Practitioners, and Karen Storey, primary care lead nurse (workforce) at Health Education England — they understand that you need to talk to the employers.
I got some figures from a GP that said training a practice nurse is a tenth of the cost of training a GP. And if you look at what practice nurses do, they are excellent at the management of long-term conditions, which has meant that GPs have become de-skilled. So what's going to happen if you have no more practice nurses?
You've got to talk to GPs in terms that they understand, and they understand quality and patient care — these are very high on their agenda. And after that, they want to talk about money. So when we talk to GPs, it's different messages than the ones that we talk to nurses about. 
Of course, nurses want a career structure. But GPs want to know why they should have a career structure. And you have to put a financial and a clinical value on that. We're really bad at talking about the economics of nursing, because it's a very un-British to do, to talk about money. It's especially difficult for practice nurses because they have a relationship with their employer.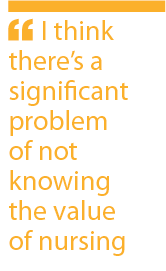 How can a practice nurse work out their economic value and explain that to their GP?
OK, so first of all we're required to do audits. And if you're smart you will connect the audit to not only your revalidation process, but the GP can also connect it to their revalidation process. So that there's actually value in doing audits. Then we'll know from QOF that there's a value to every activity. So the idea of audit and QOF will give you the calculation of what the nurse has achieved, because the nurses quite often tell me that they see their value to the surgery around the delivery of the QOF. So that is an easier way to do it. And I talked to the Royal College of Nursing (RCN) about this, because they did a series of exercises on return on investment. But they did none in primary care and they ran out of money. And I've said to the RCN several times, why don't you do return on investment analyses in primary care as case studies for nurses to show to their GPs? 
And I've thought about how can we have the Alliance commission for that sort of stuff to be done as well. You just have to have the money to do it. Obviously, it needs money to do that sort of thing, so that every nurse doesn't have to do it. But if that bank of information was available, then we need to make that readily available to GPs and practice nurses. If you get independent prescribers, for instance, how much time is that saving your GP? All these things must be fairly easy calculations. At the same time, however, good nursing can mean more prescribing as much as it can mean less prescribing. So social prescribing and providing information should be counted too.
Do you think that's as much a societal issue as one of commissioners and GPs not knowing the value of nurses?
Yes, I think there's a significant problem of not knowing the value of nursing. I think nurses have been speaking up, but it's generally been about the nursing profession, not about primary care. And a lot of the data is not about primary and community. Why? It's quite often about hospital nursing because that's the one that will be on the news. When you hear the news about primary care they always talk about GPs. It really gets me annoyed, as if the only people who work in primary care are GPs.
Our nurses are probably too ninja, they need to be more outspoken, and it's difficult. So that's why you need people like me, who are no longer in that relationship, either with the NHS, NHS England, or GP employers, that can actually say, 'can you not see what's happening?'
What role is social media, especially Twitter, going to play in practice nursing gaining more acknowledgement from society and from GPs?
I'm a huge fan of Teresa Chinn, a nurse and professional in social media community development. The main reason for practice nurses to be on Twitter is their continuing professional development. I read Twitter like a newspaper. You can follow We GPNs, which I'm part of. You've got to be brave, really. And practice nurses are brave in their surgeries and they're brave on closed Facebook groups, which I've got the privilege of being part of. That definitely has to continue and be protected so when they feel they can talk honestly about the things that are happening.
It's a difficult relationship that they have with their employer, but there are things that they can do. The beauty of GPs is that they speak their mind, and I think that's fantastic, I really do. I don't think the nurses feel that way, but I think they have the ability to talk up practice nursing.
If we talk in silos, we will remain in silos. You'll notice that NHS Alliance is an alliance. You'll notice that the chief executive is a housing policy specialist, the vice chair is a GP, and the treasurer is just retired from a senior role in local government. These are the relationships that we need now.
How has having severe asthma affected your career as a nurse?
Well, my asthma was terrible until the age of 21. And it was drummed into me when I did my training that steroids were terrible, awful things that gave you lots of negative side effects. So even when steroids were freely available I avoided them, until I had a severe asthma attack and two lung collapses around the same time. My GP at the time said, you need to go on inhaled steroids, and that changed things a lot for me. I had to have a lung resection because I had birth problems with my chest. So my lungs were collapsing. I had what was called emphysematous bullae, which are big sort of blogs of weakness in my lungs. So I had to have two thirds out. It's the lung resection that bothers me more than the asthma, I think, because having so little lung on the right is quite difficult. I can't walk up a hill now without getting very breathless. So this has given me a lot of empathy for people with long-term conditions because when you meet me you don't think there's anything at all wrong with me.
How did you develop your passion for social prescribing?
I went on a journey really. I went from practice nursing into primary care development, into commissioning and being a director of primary care. And frankly, I missed nursing when I was a very senior manager. That was a mistake, I think, as a nurse becoming a senior manager. I think I should have always kept in touch with the frontline. And then I went to work at the NHS Institute for Innovation and Improvement just before it was dismantled. And I worked on health inequality, a national programme called Healthy Places, Healthy Lives.
My life is characterised by supporting the underdog. That threw me into a lot of disadvantage, and I met a nurse called Hazel Stutely, a retired health visitor who supported local people to transform their community. And when I met her, she reminded me of somewhere that I worked in Manchester where I had closed their clinic because it was falling down. I'd just arrived at this new place in Trafford, where I worked at the time, and I was asked to close the clinic and move the services up the road. And I was told that the community had been consulted. It turned out that the community hadn't been consulted properly, and I found out that even though the other practice was only a mile or so from the old place, the bus didn't go far enough up the avenue to take the young and the old there. I had made a mistake.
The population of Lostock were very upset with me, as you can imagine, and spent a lot of time ranting at me about the lack of primary care services. The only primary care service left in the area was an independent community pharmacy, which had lost a lot of its prescriptions because the GPs were up there with the pharmacist there. So actually, I'd made things an awful lot worse and I set about going into partnership with them, and they got some lottery money, and the community, the police, the council, the pharmacist, eventually the surgery, and me, worked together.
Eventually the pharmacist persuaded the doctors to move to the site, which the community had persuaded the primary care trust to sell by going to their board meeting, like I whispered to them to do. And they got a brand new medical centre. That took six years.
But the thing was that the community used its own strengths, and it worked in partnership with the organisations and services in the area. And that's what I saw in Hazel and her community. She trained me on an asset-based approach at the University of Exeter. It's called Connecting Communities, or C2. I learned that when people use their strength and when they're connected together, and when they're given purpose, suddenly they become well. It was only when I met Hazel that I understood why social prescribing works, and therefore, it's part of our repertoire at the Alliance. Our basic message that we're trying to communicate is about what are the causes of wellness, rather than what are the causes of illness. And after I'd read lots of things I boiled it down to three things. Patients need control over the circumstances of their own lives. They need contact – meaningful social contact, which is a lot behind social prescribing. And they need confidence. So control, contact and confidence.