Practice nurse and one of the 2018 Women of the Year Anne Norona talks to David Swan about why she would volunteer full-time in Iraq
'There were 15,000 of them stuck in a field,' Anne Norona tells me, recalling one of her trips to help displaced Yezidi refugees. 'There were four-hour queues just to get a Pot Noodle. It was like a zombie apocalypse, I didn't know who to help.' 
Ms Norona is describing a scene at Idomeni, a Greek town at the border between Greece and Macedonia. It is one on a long list of places that she has visited as a volunteer to offer medical assistance over the past few years.
By day Ms Norona is a practice nurse, and has been for the past 13 years. She works two days a week at a GP surgery in Penzance, Cornwall, and runs a cosmetic injection clinic on the remaining three days.
Fact file
 
Anne Norona
1995 Qualified in intensive care at St George's, University of London
1998-2000 Volunteered medical aid in Haiti
2005 Became a practice nurse
2017 Founded the Yezidi Emergency Support charity
2018 Named as one of four Women of the Year
She is also, as of this October, a 2018 Women of the  Year award winner, thanks primarily to her tireless work volunteering to help Yezidis in Iraq, a group who were the victims of many massacres in August 2014 after Islamic State invaded their homes in the north of country in an attempt to drive them out. Sinjar – home to one of the biggest Yezidi communities anywhere in the world – Zummar, Mosul Dam and many other areas of Iraqi Kurdistan were destroyed by Islamic State.
In 2017, she set up her charity Yezidi Emergency Support (YES), after many visits abroad to aid medical efforts for these refugees, many of whom had to flee Iraq to get away from the violence.
But it was in 2015, when the Yezidis started to arrive at Lesbos, a Greek island off the coast of Turkey, that Ms Norona recalls wanting 'to do something about it'. But while her friends in Cornwall were collecting clothes and sending other items out, she decided that she'd 'rather be doing something else'.
'I connected with a medic who was in Greece volunteering, running a medical tent 24 hours a day, and I asked her what she needed,' she says.
'She told me that she needed a load of doctors and nurses going out there and helping on a rotational basis, so I became the main recruiter of medics for the medical tent on Lesbos. We all connected through this Facebook hub we set up, and that to me was an incredible thing because nobody knew about it. We had around 25,000 volunteers from around the world, and if anybody needed anything, we could sort it out.
'We have a core group of volunteers from the US, Norway, the UK – it was a bit like being in the underground during the war, that sort of movement. That's what it felt like.'
The Yezidis arrived on Lesbos via Turkey, having traipsed through the mountains to reach boats that would take them to the island. It meant that Ms Norona saw a lot of severe frostbite, as well as hypothermia from refugees being thrown into the water. 'You can also see morphine withdrawal in those people who were wounded in the attacks, but who then had to cross the border and had no medication. Then you see all the chronic illnesses – depression, trauma, post-traumatic stress disorder. It's endless really. In my first half an hour there, I was dealing with a family who had three children with cerebral palsy in wheelchairs,' she says.
But all of this was stopped in 2016 when Turkey agreed a migration deal with the EU designed to prevent immigrants entering the EU via Turkey. As a result, the Turkish police removed all of the volunteers, including Ms Norona and her team, off Lesbos, and the Yezidi refugees were sent back to Turkey and ultimately their ruined cities in Northern Iraq.
Undeterred, Ms Norona continued to help them, first by volunteering on mainland Greece in Idomeni, and then again in Iraq once the Yezidis had returned home to cities that were nothing but rubble.
Anne at a centre in Dohola on Sinjar Mountain
'Nobody really helps them'
She now flies into Iraq as often as she can – the timing and frequency dictated primarily by her five weeks of annual leave each year. She lands in Erbil, Kurdistan, because it's possible for foreigners to enter without a visa, and is then picked up by her Yezidi team and taken to visit as many cases as can be seen.
These cases include survivors of Islamic State captivity – women that have been enslaved for three or four years. Ms Norona describes them as having come out with 'nothing', and with 'most of their children still in captivity and their family murdered. So we go and see them and give them a bit of money or some food just to help a little. Nobody really helps them.'
She also tries to visit Sinjar, the now destroyed home of a huge community of Yezidis, but as it's on the Iraqi side of Kurdistan it requires a visa to enter, something that has become difficult due to the Iraqi Government 'stopping foreigners from getting visas'.
Even when visiting Sinjar is an option, the journey is far from straightforward. What should take 90 minutes now takes over seven hours due to blocked roads. 
'The journey runs right through dangerous areas where Islamic State operate,' she says. 'People think Islamic State have gone – they haven't. They're still everywhere in these areas, and it's still very dangerous to travel, but that's the only option. That's what these governments make us do to get to the Yezidis on the mountains.
'There are improvised explosive devices everywhere, even in houses in Sinjar. You can get blown up by one of those. And there is a chance you could be kidnapped on certain roads, but that hasn't happened to anybody that I know of in the last few months.'
I asked what happens to the Yezidis once she has treated and cared for them. She talks passionately about their situation and the conditions that they have to live in.
'Once they've been treated, they just go back to their tent,' she says, obviously angered by what the Yezidi community has to face. 'They've got no choice – they've got no home to go to, nobody is helping them rebuild. Every single house they had has been completely ruined. 
'When you go to Sinjar and visit the city, where 500,000 people live, there's not one house standing. The house where we have our antenatal clinic that I helped set up and the school is the only I've seen that's standing. It's incredible – I've never seen such destruction.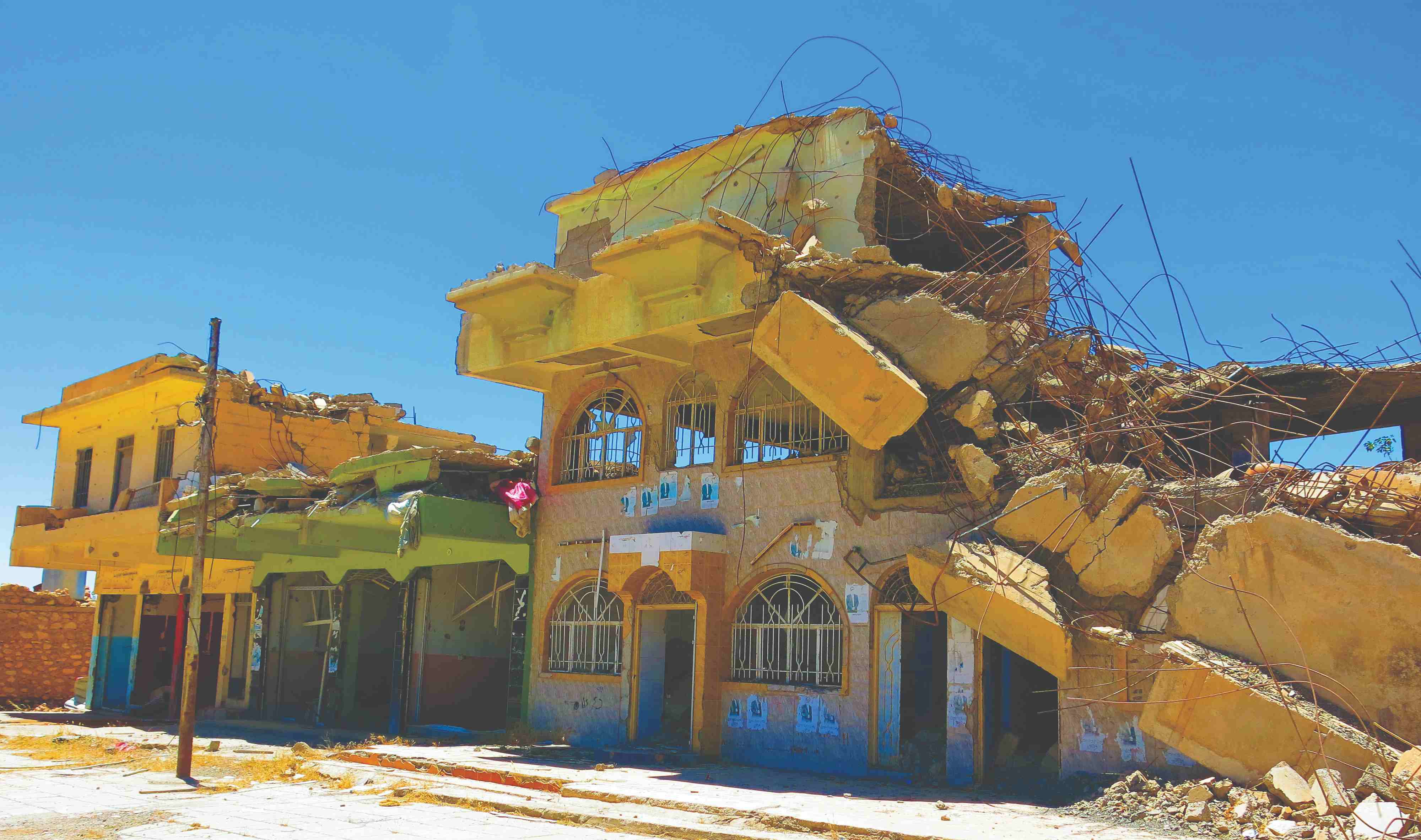 Shingal city on Sinjar Mountain in 2017
Despite the sometimes large gaps between visits, she does often see the same people on her travels around Kurdistan and into Sinjar. Many Yezidis recognise her from previous appearances, despite by her own admission being 'lucky' if she can fly out there twice a year.
'You have to keep the momentum going'
Her visits so far in 2018 have comprised three weeks in February, when she went to the antenatal clinic, followed by a two-week stay later in the year. She tells me she'd love to do it all the time, but simply cannot afford to due to a combination of time and money.
The cosmetic injection clinics she runs help provide her with an income to live off, a total that she describes as 'very low', with funds for her YES charity raised via Facebook and grants from non-Government organisations (NGO).
'For example, the antenatal clinic is funded by an NGO in the US called Without Borders, and that's through one of the YES directors, Dr Samir Johna, who operates in Iraq,' she explains.
'You have to look for the money, and it's really difficult today. Two years ago it was much easier, but now everyone is tired of listening and that's what is so hard. You have to keep the momentum going and keep trying to find money from somewhere because it's something I really believe in.
'If I could do this full time then I would, and I would go out there every month if I could. But I'm a single mother and I have to work – I don't get money from my volunteer work.'
But she spends what time she has working on the charity, even if she isn't abroad helping out in person. A lot of her volunteer work is conducted online – if a Yezidi gets in touch with her via the Facebook hub, she can ensure one of the medical team in Iraq goes to see them with her network of contacts within the organisation.
It does mean that she 'rarely gets a minute off', having to combine the YES charity volunteering with her work as a practice nurse, the cosmetic injection clinics, and being a single mother.
Not that she would accept it any other way. As we are wrapping things up, she explains to me that she's just got back from Canada, where she had been present at a wedding.
'But I managed to go and see some Yezidi survivors as well [who had been able to settle in Canada].'