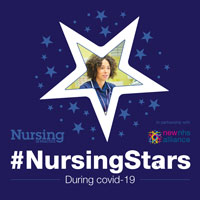 There is little doubt that the Covid-19 pandemic has brought to the fore the dedication and resilience of the National Health Service across all areas, and in nurse.
Who will ever forget the images of nurses coming off duty from intensive care units having spent 12 hours or more wearing PPE taking to social media pleading with the public to stay at home, not seeing their own family for over a month and terrified for the health of colleagues and the patient in their care during the early part of this pandemic? Or the nurses and medics working around the clock to support each other and the patients in their care, not knowing who was going to make it and who wasn't?
The pandemic at the point of writing this piece is not over, although gradually the lockdown is being eased and we are all resigned to the fact that we are going to have to come back to some sort of reality in the knowledge that this very unwelcome visitor is not going to disappear overnight.
General practice has rapidly adopted digital consultations, from telephone triage and use of email to video consultations so that patients do not have to attend in person and clinical staff can work remotely if needed. Digital consultation in not a new phenomenon but it is an area which uptake has been slow and patchy at best.
It is accepted by general practice countrywide that out 'new normal' is going to look different to the normal we worked and lived with pre-coronavirus and both clinical and administrative teams have stepped up to the challenge. It is credit to the adaptability of these teams that has continued to provide a functional primary care service, which has accelerated the NHS long-term plan's offering of digital services to patients by 2024. Social media has also shown its usefulness with teams establishing WhatsApp groups to share knowledge and expertise across clusters and teams.
Whilst it is acknowledged that patients requesting a Med3 do not necessarily require a face-to-face consultation and can easily be dealt with via e-consult, it is without doubt that with or without Covid-19 symptoms some patients have to physcially seen by a healthcare professional. This has brought challenges to general practice in terms of reorganising the patient experience within respective surgery's to allow clinicians and patients to remain safe whilst not adopting the pre-Covid 19 way of attending, checking in, sitting in a crowded waiting room until called and passing through doorways like ships in the night to see their respective clinician. Larger practices are trialling 'hot hubs' or 'dirty practices' in which patients are waiting in isolation in the waiting area, seen and ushered back out via a door which is then wiped down by someone wearing full PPE prior to seeing the next patient. Car parks and gazebos have formed an extension to the practice in which patients are seen in the open in by clinicians wearing PPE.
Collaborations between organisations has developed to share knowledge, collate information as no one area has all the answers and the value of the expertise across the professions is seen as something that everyone can share in.
All this with a substantial shortage of nursing staff estimated to be at least 40,000 registered nurse vacancies in England alone. Entering the pandemic understaffed, undervalued and underpaid . Dame Donna Kinnair RCN Chief executive and general Secretary highlights that whilst Covid-19 has been an unwelcome visitor what it has demonstrated is a very modern nursing approach and whilst the word 'nursing' is used far too easily overlooking the vast experience and skill that as a profession we conduct ourselves regardless of setting. Covid-19 was and still is an uninvited guest to our towns and cities.
It has taken loved ones from families in the most desperately sad circumstances, curtailed our whole way of life but it has showcased the skills and knowledge of nurses across all disciplines working in the most testing, bizarre and unusual circumstances. It has brought together a country which stayed at home when asked to do so to 'to protect our most vulnerable and to protect the NHS'. The NHS is the jewel in the UK's crown; funding has been unprecedented during the pandemic and over 500,000 people volunteered to work in the NHS in some form.
Returning professionals came out of retirement to do what they could to support colleagues old and new, student nurses were pulled into the effort across the spectrum. It is true that it was not all plain sailing with the NHS portal collapsing due to the demand and some volunteers not responded to.
One thing that is abiding however is that the professionalism working within the NHS are dedicated and proud. Nursing has become a glowing light in what has been some very dark days. Only time will tell whether that dedication, skill and knowledge will be rewarded with fairer remuneration in time. Nurse leaders from across the four countries of the UK must continue to apply pressure, but gently gently – lest we forget colleagues lost to this most awful of diseases.