What will the new NICE guideline on asthma mean for practice nurses, and is it feasible when it comes to workload, training needs and cost? Kathy Oxtoby reports
It's a guideline that will have an impact on the time and training of practice nurses, as well as cost to primary care and diverge from the gold-standard BTS/SIGN recommendations. So it is no surprise that NICE's new asthma guideline has been surrounded by controversy.
The guideline recommends objective testing, such as spirometry and forced exhaled nitric oxide (FeNO), for asthma diagnosis. It advises nurses and doctors not to rely on symptoms without objective tests to make the diagnosis, bypassing the BTS/SIGN recommendation to confirm a diagnosis based on a trial of treatment.
It also recommends that if patients cannot perform a particular objective test, clinicians should try at least two other tests, and make the diagnosis based on symptoms and any positive test results.
Initially slated for publication in September 2015, it was delayed after criticism by the Primary Care Respiratory Society UK (PCRS), the British Medical Association and the Royal College of General Practitioners that the objective tests were too costly to carry out in primary care. 
NICE carried out pilot studies to test the feasibility of putting the guideline into practice, and the guideline was consulted on again earlier last year after the studies showed the new objective tests were time-consuming and did not necessarily improve the accuracy of diagnosis.
It was finally published in November 2017 after being delayed for a second time at the end of October to allow discussions with NHS England over implementation.
But despite widely expressed concerns, NICE stuck with the recommendations of objective testing, and the insistence that FeNO should feature as part of the battery of tests.
For Sonia Munde, clinical nurse manager for Asthma UK, the new guideline is a welcome development, giving practice nurses 'more certainty when they diagnose asthma'. Ms Munde believes the current approach of encouraging asthma patients to trial treatment to see if symptoms improve before they are diagnosed 'is inefficient and wasteful', and that it could also mean 'people with asthma are taking medication unnecessarily, which could cause side effects', she says. 
She claims the new guideline needs to be in place 'as quickly as possible', as it will help nurses 'feel more confident in their diagnosis and ensure patients are getting the right treatment'. 
But others believe the guideline cannot be implemented quickly in primary care.
'NICE are asking every patient with suspected asthma aged five and over to have spirometry and reversibility testing, and many will also need FeNO, which very few primary care centres have access to at the moment,' says Carol Stonham, senior primary care nurse practitioner in respiratory medicine at NHS Gloucestershire clinical commissioning group (CCG) and vice chair of the PCRS.
While the FeNO test is 'very quick', increased use of spirometry testing recommended by NICE 'will impact massively on time', she adds.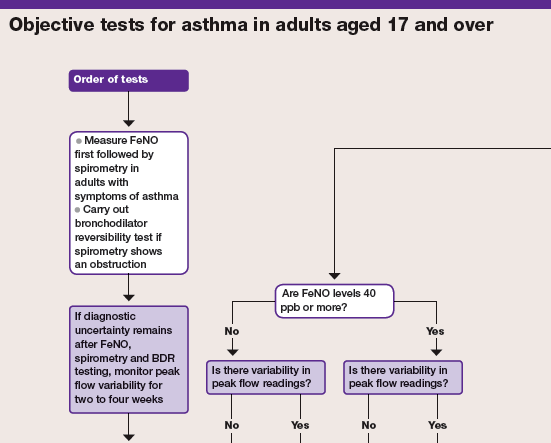 Click here to see the full chart
The Royal College of Nursing (RCN) has recognised the time implications of the guidance in its response to NICE's request for comments from stakeholders on its proposed new asthma guideline. The RCN cautioned that 'to properly follow all these recommendations for asthma review could be time-consuming,' and advised that 'asthma review appointments should be longer' as a result of the proposals.
As well as having enough time to adhere to the new guidance, practice nurses will also require the necessary knowledge and skills to deliver it, something the RCN acknowledged in its consultation response. 
'General practice nurses often cover the age spectrum and training is essential, especially with new spirometry guidance, to ensure quality and safety,' they warned.
And respiratory GPSI Dr Kevin Gruffydd-Jones agrees that practice nurses are going to require more training to fulfil the guideline, stating that they 'will need to work to higher quality standards' to deliver spirometry tests.
It's not just spirometry that may pose problems for practice nurses. The inclusion of FeNO by NICE is arguably a more limiting factor in following the guidance to the letter. Due to a purchase price of around £2,000, only a few practices have this kit in place. As Sally Armstrong, nurse practitioner and lead nurse at NHS Ealing CCG, points out, the machine and spares 'will need to be paid for, and GP partners will need to make that decision'.
Given the funding pressures on primary care, Dr Gruffydd-Jones suggests practices may group together to purchase FeNO machines, using a 'hub and spoke'-based model. 
But those practices unable to offer NICE's recommended full service of testing because of cost and time issues may look to refer patients to secondary care, an approach that Ms Stonham describes as coming with 'many problems'.
'If all patients requiring a full service of testing were referred to secondary care this would flood and destabilise the sector, while primary care would quickly become deskilled,' she warns.
'Asthma as a disease has, for many years, been diagnosed in primary care and should continue to be diagnosed there because diagnosis often evolves over time, and primary care is where these patients make regular contact'. 
Even if there was sufficient time, training and funding for the kit to deliver the objective testing required, the accuracy of spirometry and FeNO in diagnosis has been questioned by experts.
Fundamental concerns
In its response to NICE's request for comments from stakeholders about the proposed guideline, the PCRS noted that spirometry with reversibility testing 'may be desirable' where quality assured spirometry is available in a timely manner, 'but this may not always be the case'.  
It added that the evidence for using spirometry and reversibility in children is 'very weak', and that the organisation could not understand 'why spirometry testing has been recommended in children'.
In its briefing document on asthma guidelines, published in November 2017, the PCRS said the new NICE asthma guideline 'does not address the more fundamental concerns we have about the weaknesses of testing at a single point in time'.
Ms Armstrong is also concerned that doing FeNO testing at a single point in time could result in diagnostic errors — either through missing a diagnosis of asthma or providing false negatives. In contrast, she says the BTS/SIGN guidelines 'take you down diagnostic routes that allow you to diagnose asthma based on probability, on really good history-taking, and regular reviews, which is what you need for a diagnosis of asthma in my experience'.
As for practice nurses conducting reviews for patients already diagnosed with asthma, Ms Stonham says they will not need to take FeNO and spirometry tests every time, as NICE has produced a diagnostic, not review, guideline.
However, she highlights a 'massive shift' from the BTS/SIGN guidance 'that has almost slipped under the radar'. BTS/SIGN recommend offering a long-acting beta agonist (LABA) as the first-line add-on therapy for patients whose asthma is not controlled on inhaled corticosteroids alone. Instead, NICE recommends adding an LTRA to inhaled corticosteroid treatment before trying a LABA, as they are cheaper and therefore more cost-effective.
'If you look at the evidence, it favours LABAs only marginally, but the cost favours LTRAs, so when looking at cost effectiveness there is not much difference between the two. The other benefit of LTRAs is that, if they're not effective, we can just stop them and move onto something else after 6-8 weeks. The downside is that there are two script costs for the patient', she says.
Faced with two guidelines suggesting different approaches to asthma, practice nurses are left with a dilemma about which to follow, and the best course of action to take. The RCN says as the guidance is new it needs to properly consult with its general practice members before issuing a firm analysis on it. However, it has expressed concern 'that having more than one national guideline from different organisations will lead to confusion, especially when they can contradict guidance that is currently widely used'. 
For Dr Gruffydd-Jones, the 'discrepancy between the two guidelines can only lead to confusion and will be to the detriment of patient care, until it's resolved'.
Experts told Nursing in Practice that they believe one way of resolving the issue would be for NICE and the BTS/SIGN to work together to produce a single guideline. And there is a possibility this could happen. Responding to comments from stakeholders about differences in the guideline, NICE said that, along with BTS/SIGN, it was 'considering how best to clarify advice for those aspects of asthma care not covered by the NICE pathway for asthma diagnosis and management' and that 'NICE and BTS/SIGN are also discussing how we might bring the two guidelines together'. 
Dealing with competing guidelines giving different advice will be challenging, Ms Stonham believes, but will also be an opportunity to ensure a 'good diagnosis for patients'. Practice nurses can continue to use the skills, knowledge, and equipment they have available working in respiratory care, as well as seek advice from specialist groups, because working in respiratory care 'can be an isolating place to be', she says.
And that sharing of views and advice will be valuable given that the controversy over NICE's new guideline looks set to continue.