Primary care and community nurses have an important role in supporting patients with long Covid and can use their existing knowledge and skills in relation to long-term conditions to help individuals with this new condition.
Nurses in primary care are currently facing unprecedented pressures: coping with the pandemic, dealing with a backlog of care, supporting the Covid booster and flu vaccination programmes, and struggling with staff shortages. On top of this comes the growing number of patients presenting with long Covid.
The addition of this new and complex condition to existing workload pressures amounts to 'a perfect storm – and it's going to come and hit us', warns Dr Elaine Maxwell, nurse academic, former scientific advisor to the National Institute for Health Research. Dr Maxwell is the author of the NIHR's ongoing long Covid review, and trustee of patient advocacy group Long Covid Support.
The Office for National Statistics (ONS) estimates that, as of the start of October, 1.2 million people in the UK were experiencing long Covid symptoms – an increase of 100,000 on its September figure.
Despite the pressures, nurses working in general practice and the community have a 'huge role' to play in supporting patients with long Covid, Dr Maxwell says. 'These nurses have a lot of experience in managing long-term conditions. This is exactly where nurses excel.' And she believes these skills and knowledge can be transferred to help people with long Covid manage this multisystem condition.
Understanding long Covid
Because long Covid is a new condition, understanding of its symptoms and impact on individuals is evolving.
NICE's rapid guideline, published last December, divides it into 'ongoing symptomatic Covid-19' with symptoms lasting from four to 12 weeks, and 'post Covid-19 syndrome', where symptoms continue beyond 12 weeks.
The NHS advises that common long Covid symptoms currently include: fatigue, shortness of breath, chest pain, problems with memory and concentration, insomnia, heart palpitations, joint pain, depression and stomach ache.
Initially seen as an adult condition, it is now clear children can also have long Covid. The Children and Young People with Long Covid (CLoCk) study, a large study of children and young people who caught Covid-19, has found that up to 14% may still have symptoms 15 weeks later.
And worryingly for workforce pressures, the prevalence of self-reported long Covid is greatest among those working in health or social care compared with other industries, according to ONS data published this September.
As for its impact, long Covid can be 'very debilitating and some people need help with personal care months after the initial infection', according to NIHR's second review on living with Covid-19.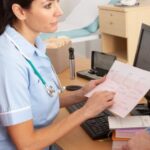 Not surprisingly, nurses say long Covid is having an impact on the workload of staff in general practice and the community. Practitioners have told Nursing in Practice they are seeing more and more patients with enduring symptoms and multiple health conditions.
There is also a great deal that remains unknown, nurses say, pointing in particular to the absence of a clear definition of what long Covid actually is. 'I've had a few patients who sound like they have long Covid from the symptoms, but without a clear definition it is still vague and open to interpretation,' says Jenny Aston, an ANP for Granta Medical Practices in Cambridge.
Long Covid can be managed in specialist clinics, where available. But the pathway lacks the resources to support the hundreds of thousands struggling with symptoms – an issue highlighted this September at a Commons Health and Social Care Committee inquiry into the backlog caused by the pandemic.6 Relatively few patients are managed in long Covid clinics – between 5 July and 1 August, just 5,737 referrals were made, according to a report in the Independent.
Common long Covid symptoms
Extreme tiredness
Shortness of breath
Chest pain or tightness
Problems with memory and concentration
(so-called brain fog)
Difficulty sleeping
Heart palpitations
Dizziness
Pins and needles
Joint pain
Depression and anxiety
Tinnitus, earache
Feeling sick, diarrhoea, stomach ache, loss of
appetite
High temperature, cough, headache, sore throat,
changes to sense of smell or taste
Rashes
Dealing with long Covid
In the absence of sufficient long Covid clinics, patients are often seen in general practice or the community. Wales-based ANP Helen Lewis says a growing number of patients are presenting with long Covid symptoms; in the space of a month, the number rose from around two patients a week to an average of six. She says district nursing teams will be 'inundated' with long Covid patients, and stresses that the condition will also be having an impact on extended families, with patients unable to care properly for elderly relatives or look after children.
However, Ms Lewis says she expects nurses to become more comfortable about dealing with long Covid as they see more patients with the condition. It will become 'second nature' to order blood tests to rule out conditions with similar symptoms, such as thyroid or rheumatic problems, she adds.
Ms Aston has referred patients to long Covid clinics but says 'it's a long-winded process', while the referral form itself is confusing, and includes a checklist of long Covid symptoms that could also indicate postviral fatigue.
Take patients' concerns seriously
Identifying long Covid can be challenging. Despite the often confusing presentations of the condition, the key consideration for nurses should always be to take patients' concerns seriously. 'The first thing people in the long Covid advocacy group say is that they want somebody to believe them,' says Dr Maxwell.
Ms Aston says it is important nurses 'really listen to patients and allow them to talk about what they perceive as possible long Covid symptoms. We need to value their experience and hear their concerns'.
Sufficient time also needs to be allocated for patients to receive 'a thorough assessment from highly skilled professionals', says Eve Thrupp, a Queen's Nursing Institute manager of nursing programmes for leadership who is involved with the QNI's Long Covid Expert Nurses Group.
'Community nurses are ideally placed to carry out these assessments, as patients are often known to them so they have an educated insight into their individual needs,' she says.
As well as using their knowledge and skills to refer patients to long Covid clinics, Ms Thrupp says nurses should consider alternative care pathways, guided by the patient's preferences, such as identifying different kinds of pain medication.
What's being missed?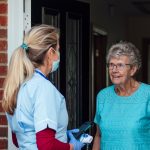 The long Covid knowledge gap means that 'unfortunately in the public mind, and therefore in the minds of some non-specialist nurses and doctors, long Covid is a respiratory illness', says Dr Maxwell.
She warns community nurses may be putting patients' symptoms down to other chronic conditions. 'Because of a lack of understanding about long Covid, it can be easier to attribute symptoms to something else,' she says.
Ms Thrupp says an awareness of all the differential symptoms is 'critical' but adds that there is a sense that some of the physiological aspects of Covid are recognised less often than the psychological aspects.
'Nurses who attend the Long Covid Expert Nurses Group are acutely aware that this could be happening. It has been recognised within the group that some individuals, such as those with a learning disability, children and young people, have long Covid symptoms that may not be recognised as such,' she says.
Some individuals may have long Covid without ever having had a Covid-19 diagnosis. Rhona Aikman, a practice nurse based in west Scotland, says that, out of a caseload of 8,000 people, she has so far seen just 10 patients with symptoms of long Covid. But she suggests long Covid might be 'a bigger problem' for her patient population, because some individuals who have never had a positive Covid test are still presenting with long Covid symptoms.
High-quality education
With the potential for missed diagnoses, the current scale of long Covid and its prevalence in the longer term could be even greater than thought. Nurses' support will be vital to the wellbeing of this growing patient group but Dr Maxwell says the profession as a whole has so far been 'quite slow to respond', and 'nobody has taken long Covid by the scruff of the neck'. She says initial assumptions that the impact of long Covid would be limited have not been borne out, and that 'a rethink' about how to offer support is now needed. One way would be to take advantage of the model used to manage long-term conditions. Dr Maxwell told Nursing in Practice: 'I implore the chief nursing officer for England to look seriously at the role of nurses in a long-term conditions, long Covid model.' She adds that she would like to see all the information available about long-term conditions 'put in one place' for practitioners to access, and for this resource to be funded by NHS England.
New ways of working
Long Covid may be a new condition but nurses have been building on their knowledge and experience to come up with new ways of working to support patients.
Nurses in the QNI's expert group have shared how using a 'hybrid approach' (a mix of face-to-face and virtual consultations) has been 'very benefi cial', says Ms Thrupp. 'When used appropriately, this has provided patients with much-needed expert nursing time,' she says.
The use of digital approaches, including apps such as Living With (see Resources) has been successful in some areas, she says, through encouraging patients to log on, be aware of their symptoms and receive self-care advice.
She says the group has also shared some 'great examples' of multidisciplinary care, such as psychological and physical support being provided in the same building at the same appointment. 'This good practice could be standardised in time,' she says.
Many approaches discussed within the expert group have focused on the success of complementary therapies, such as breathing exercises and mindfulness, to support recovery, says Ms Thrupp. 'The most important message here is that the recovery process needs to be individualised to the patient's needs. Understanding the potential of a range of approaches, as the research emerges, will be essential to the nurses' developing knowledge and application to practice.'
Despite these encouraging approaches to supporting long Covid patients, there is no 'magic bullet' for the condition, and nurses warn it is here for the long term. 'Long Covid is not going to go away, and in the next couple of years we'll be fi nding people with this condition who are not even aware that they had Covid,' says Ms Aikman. And Ms Lewis suggests long Covid will become 'part of our everyday work, like asthma and diabetes'.
For the present, and in the absence of established treatments, 'nurses need to help patients fi nd ways of living the best life they can with their symptoms until we understand enough to treat them', says Dr Maxwell.
That understanding of long Covid will develop as nurses share their knowledge. As Ms Lewis says: 'Talk to each other. Whether you're a district nurse, a practice nurse or an ANP, everybody should be having a conversation about long Covid, because either directly or indirectly it's going to have an impact on all of us.'
Nurses who are members of the QNI's expert group say they need 'access to more education around all aspects of long Covid', says Ms Thrupp. 'Nurses are asking for a clear pathway of care to follow for their patients, and additional support to ensure marginalised groups, such as those with learning disabilities, are also being assessed, treated and referred into the long Covid services.'
Deputy Chief Nursing Officer for England Mark Radford says he is 'keen to ensure high-quality long Covid education, training and support is available to all nursing and midwifery colleagues across the country'.
Mr Radford points to a range of educational materials that are being developed to support 'a wide understanding of the condition and its impact on individuals affected'. This is being carried out 'collaboratively with colleagues in NHS England and NHS Improvement', he says.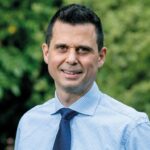 This August saw the launch of a free introductory course for long Covid, aimed at all healthcare professionals. the course is available via Health Education England's e-learning platform. It explains what is meant by long Covid and post-Covid-19 syndrome, and covers such areas as common symptoms, investigations for complications and alternative diagnoses, links to emerging evidence bases and current NICE guidance. It also examines the kind of skills nurses need to deliver long Covid care.
HEE says work has begun on a second programme, which will be a more advanced module on long Covid. Work on both of these modules is being led by Central London Community Healthcare NHS Trust.
The next steps are to 'look at how we can work with colleagues across the wider multidisciplinary team to build upon the awareness this resource gives us', says Mr Radford.
Resources
E-learning. Free access via HEE: bit.ly/3xcqbsB
QNI resources: Living with Covid-19: bit.ly/3c3a078
Coronavirus Information Centre: bit.ly/31TzamT
Your COVID Recovery: bit.ly/3oC1emD
Pulse: Implementing the long Covid enhanced service: bit.ly/3F3ATEs
Long Covid Kids charity. longcovidkids.org Living With Covid Recovery. bit.ly/3kJzEm4

See how our symptom tool can help you make better sense of patient presentations
Click here to search a symptom