Picture: Residents from Ferndown Manor and The Potteries care home were visited by Copse View Alpacas.
Care UK's head of nursing Rachel Gilbert sets out to dispel the misconceptions surrounding care home nursing.
Many people have an outdated perception of care homes – including that they equate to task-orientated care and everyone falling asleep in the lounge in front of the TV. The truth is very different.
Often portrayed as 'not really nursing' and one of the least-travelled career paths in the profession, care home nursing is just as misunderstood. To help tackle the problem, I have busted four myths around what the job really entails.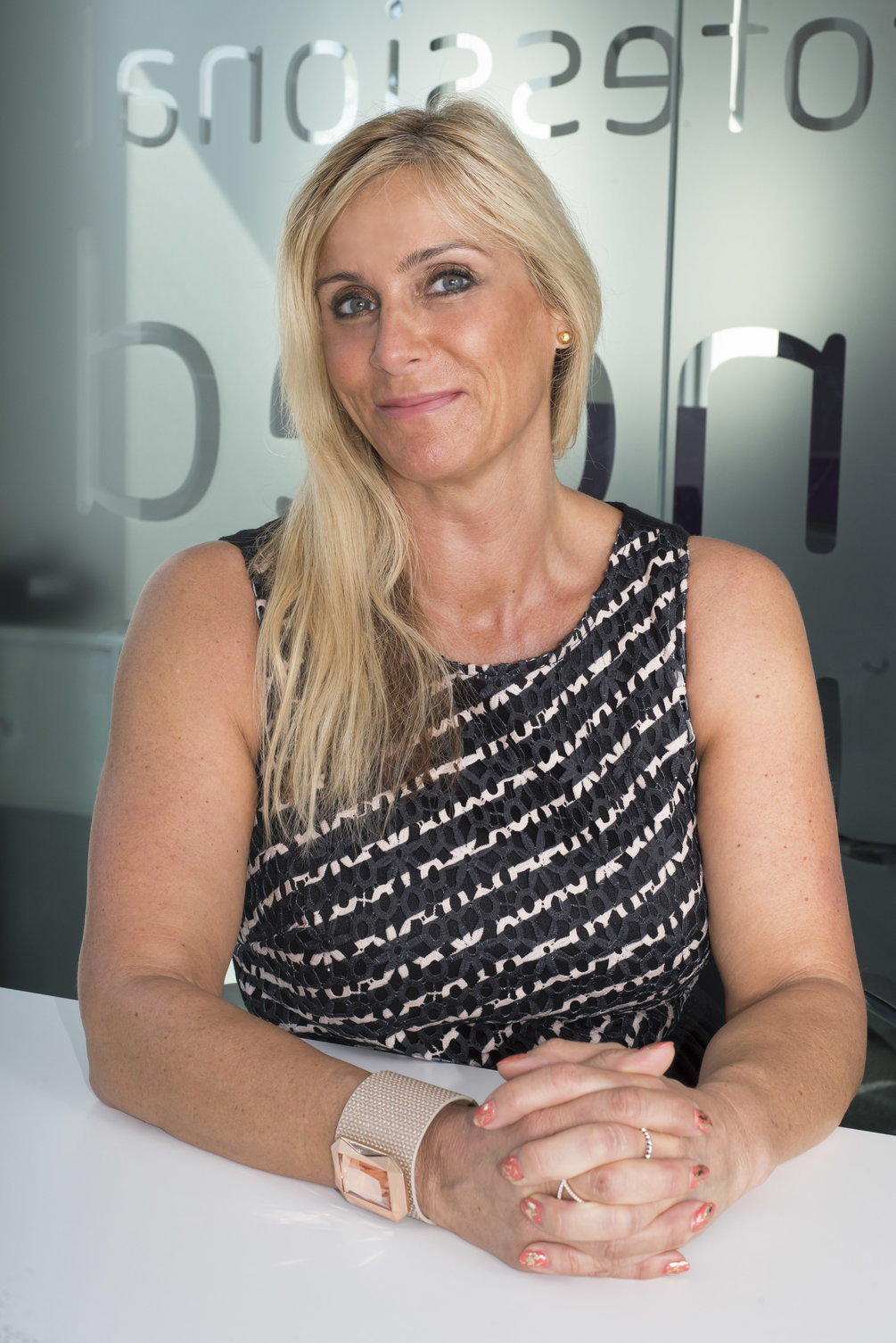 Picture: Rachel Gilbert.
Myth one: Care home nursing is a career of 'geriatric care'
There is a concern that care home nurses face a life of 'geriatric care' such as issuing medication and managing incontinence.
In reality, our nurses identify and support the emotional, psychological, social, physical and cultural needs of each individual, recognising their unique qualities and history. We do this by tailoring our care and support to each person, putting them at the centre of their care, building meaningful relationships from admission to end of life and enabling them to maintain choice, independence and control.
We deliver six-week rehabilitation programmes for those recovering from stroke or surgery; we manage chronic and complex conditions; and we support residents and their families throughout the dementia journey and always focus on ability rather than disability. We also care for residents we may have known for many years, as we support them through a peaceful and dignified death. And that is truly a privileged experience.
Nursing in the community can be a solitary experience, but that could never be said of a care home. As well as your own team, you work with experts who give you many insights into care. For example, we have invested in creating dignified dining for all residents. Nurses work with chefs to create diets for individual residents, and with speech and language therapists on assessments for texture-modified diets.
We work with physiotherapists and occupational therapists to support residents who come into the home from hospital on step-up-step-down programmes, learning skills we might not have gained as hospital nurses. We work with GPs, pharmacists, specialist nurses and advanced nurse practitioners amongst others and our increasing use of technology helps us to deliver and plan care efficiently. We have an electronic care planning and medications system and databases that help us explore and analyse clinical trends.
Many of our homes work with either Telehealth or Telemedicine, which allows us to contact clinical specialists for advice to support residents. Nurses have told me how much they value all these ways of deepening their knowledge.
Myth two: Care homes are quiet, sad places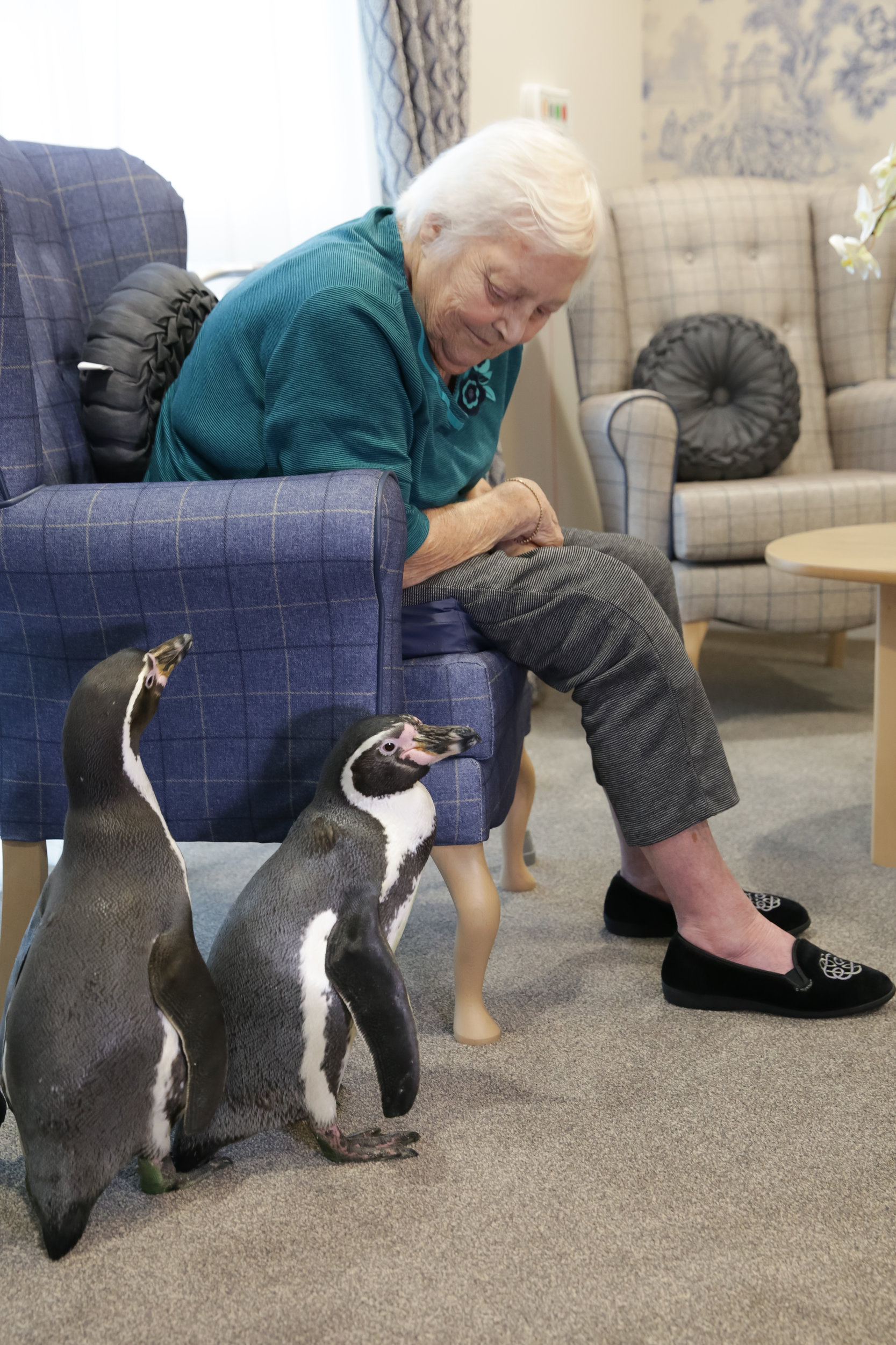 Picture: Flippered friends visit care home residents.
One of the great positives of working in care homes is their vibrancy and diversity, and I think this contributes to our retention rates.
For example, our homes have "wishing trees" where residents write down things they want to do. We have had a priest visit Rome to meet the Pope, a 100-year-old celebrating her birthday with horse riding, and a 100-year-old who went flying in a glider. You tell me any other nursing path where you can be taking clinical observations one minute and running into an alpaca or Humboldt penguin in the corridor the next?
I don't think this diversity appears in any other branch of nursing. I started my career in acute wards before moving into an NHS community nursing post and then onto social care, working in care homes. As I developed from nurse to head of care to home manager, I became involved in the wider aspects of a care home such as marketing, budget management, human resourcing and governance.
Care UK has realised the value nurses bring to homes and it has increased the training opportunities open to healthcare assistants to take on additional roles. This frees nurses up to take on more complex clinical roles or to join in the operational side of the business.
A nurse starting with us can use these enhanced opportunities to develop their skills and become a nurse manager leading a team of carers. From there they can become a suite manager, clinical lead or regional clinical lead, giving advice to nurses across homes in several locations. Our nurses have gone on from this to become quality development managers and national dementia care specialists.
Or nurses can take the management route, progressing from managing a team of around a hundred people and a multimillion-pound budget to becoming a regional director and on to operational director, supporting numerous homes across the country.
This could not be achieved without a commitment to creating a solid career pathway, equal or better than that in mainstream nursing sectors. Care UK has established a successful Emerging Leaders programme to prepare those committed to developing their skills and careers.
The training and mentoring programme exposes candidates to a wide range of disciplines, and produces exceptional managers and directors.
Myth three: Care home nursing is the easy option
The idea that there is insufficient intellectual challenge and rigour in nursing in a care home setting is simply wrong.
Care home nursing certainly offers greater flexibility: we can help nurses return to the profession after career breaks, and the predominantly non-urgent care nature of our work allows home managers greater flexibility around the roster. But it's challenging too. Supporting relatives experiencing the unwarranted guilt from settling a loved one into a home takes empathy, skill and stamina at the end of a long day.
We would not be able to attain such high levels of service across so many types of care if we did not invest in significant research, continuing professional development and additional academic and specialist qualifications for colleagues. To ensure that care needs are met and additional support is provided when needed, our nurses are highly skilled in clinical assessment and decision-making.
We work with the University of Worcester's Association of Dementia Studies on understanding more about a condition that affects an estimated 850,000 people in the UK. As well as taking part in research, the university trains our colleagues to understand how people living with dementia experience life, through both classes and experiential training that enables us to step into residents' shoes.
We have also worked with experts at Anglia Ruskin University to understand the broader nutritional needs of older people, considering glycaemic loading and digestible carbohydrates. The results have been fascinating: they have led to increased nutrition and hydration and, consequently, fewer falls.
I believe universities have a significant role to play in promoting understanding of our sector. By increasing the modules and placement opportunities for training nurses, they can show what care home nursing can achieve.
This is just some of the research and project work we are engaged in. But all of this is possible because we value and listen to nurses. This is something that comes very strongly from our nurse forums, with nurses telling us they value the work, the training and the technology at their disposal, while also feeling they are being listened to.
I believe this is where we have a role to play: giving a career to those nurses who may no longer feel they have a home in nursing.
To them, I would say – consider joining the team in a care home. You won't regret it.
Rachel Gilbert is Care UK's most senior nurse. She is director of care, quality and governance and leads a team that supports 120 care homes from Aberdeen to Poole, Norwich to Bristol. Established over 30 years ago, Care UK has a higher of care homes rated good and outstanding than any of the other five largest care home providers.
As well as award-winning design, state-of-the-art technology and fine dining for residents, there are exceptional training and development opportunities for nurses. Care UK has invested in these areas and as a result has 13 CQC Outstanding homes and an enviable record in recruiting and retaining nurses that bucks national trends.